Retired judge taking over G20 disciplinary hearing has history of overturned decisions
Former Superior Court judge John Hamilton is stepping in to preside over the hearing for a senior police officer related to "kettling" during the G20.
RICK MADONIK/TORONTO STAR File Photo
Former Ontario Superior Court justice Joh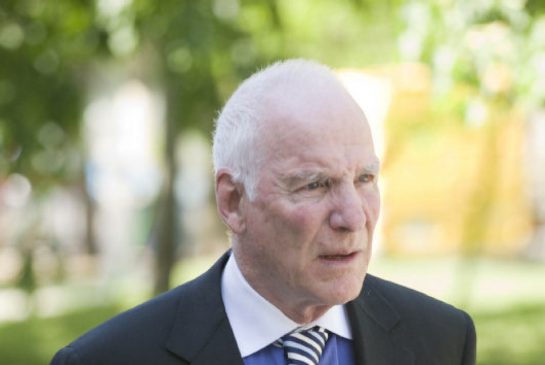 n Hamilton, as seen in 2009
By: Daniel Otis News Reporter, Alyshah Hasham Staff Reporter, Published on Tue Nov 25 201
A retired judge who appears to be the same one repeatedly rebuked by the Ontario Court of Appeal during his 19 years on the bench is expected to take over the
disciplinary hearing for a senior Toronto police officer
charged in relation to G20 "kettling" incidents.
The hearing heard Monday that former Ontario Superior Court justice John Hamilton, 79, will replace former Ontario Superior Court justice Peter Grossi after the latter announced last week he would be unable to continue due to a medical issue.
The only retired justice
listed
by the Ministry of the Attorney General by the name of Hamilton was a former well-known defence lawyer who often represented police officers in both court and before the public complaints board.
He was appointed a Toronto judge in 1991 and retired in 2010 after reaching the mandatory retirement age of 75.
Known for his freewheeling remarks, Hamilton once declared a mistrial during a 2005 attempted murder trial after he called a high school student testifying through an Urdu translator "brain dead."
A search of Ontario Court of Appeal decisions shows Hamilton has had more than 18 decisions overturned during his tenure as a judge. Judicial error was cited in many of these rulings, and on several occasions, Hamilton's conduct in court was subject to harsh reproach.
Following a 2004 case where Hamilton convicted a man of aggravated assault, the province's top court ordered a retrial.
"(W)e are not satisfied that he ever came to grips with the critical issue, the one that prevails in every case, whether the Crown has proved the guilt of the accused beyond a reasonable doubt," the panel of three judges
wrote
of Hamilton in their decision.
A 2009 Court of Appeal decision set aside sexual-assault convictions after Hamilton discussed the case with the lawyers for the Crown and defence privately in his chambers on the first day of the trial.
According to the Crown's account of the conversation, Hamilton remarked that the accused would likely be acquitted if he testified and was remotely credible.
Hamilton, who presided over several police-misconduct-related cases, was rebuked in two decisions, one in 2001, the other in 2003, for allowing the jury to hear evidence of a confession despite "serious deficiencies" in police procedures.
Hamilton has also repeatedly had convictions overturned due to problems with his jury instructions on eyewitness evidence.
According to decisions in 2002 and 2003, Hamilton told jurors that stress has little bearing on the reliability of eyewitness testimony and suggested the jurors close their eyes and consider if they could describe the person sitting next to them.
"(T)he instruction was erroneous," a three-judge panel wrote in the 2002 decision. "It flies in the face of common sense, human experience and established jurisprudence."
A 2013 decision overturned robbery and kidnapping convictions after finding that Hamilton did not caution the jury strongly enough about the frailties of eyewitness evidence. A new trial was ordered.
In one of his last high-profile cases, Hamilton acquitted beer magnate Frank D'Angelo of sexual assault in a he-said, she-said alleged date-rape case involving the 22-year-old daughter of a business associate.
The OPP's court-case manager in Toronto, Michael Rutigliano, was later charged with using his position to engineer the outcome of the D'Angelo case.
All charges against Rutigliano were dropped
last year.
Wiretaps captured Rutigliano discussing with a crown attorney that Hamilton had been picked to try D'Angelo's case.
It was a "100-per-cent" guarantee that Hamilton would acquit D'Angelo, defence lawyer Dominic Basile, a crown attorney at the time, told Rutigliano in 2009.
"There's a better chance I never eat pasta again."
(No misconduct on Hamilton's part was ever alleged.)
Hamilton could not be reached for comment.
This would be the first Toronto Police disciplinary hearing Hamilton has presided over, said police spokesperson Mark Pugash Monday.
"(Hamilton) is a highly respected former member of the judiciary," he added.
The hearing for Supt. David (Mark) Fenton will resume after Hamilton has an opportunity to get up-to-date on the proceedings, police officials said on Monday. The hearing has been scheduled to take six weeks.
With files from Katrina Clarke and Betsy Powell
Commentary by the Ottawa Mens Centre
Here is yet another classic example of the Corrupt Ontario Government in Power mentality that has a deal with the devil with it's "Authorities" who plunder Ontario Tax Payers to fund our Criminals disguised as Police and Children's Aid Societies.
This "appointment" is by the Government of a "hired pen" a disgraced judge who has not just no credibility but who brings discredit to the administration of justice.
Across Ontario Police Fabricate evidence to arrest and or not charge to impliment illegal Fascist Government Ideas.
And the Canadian Government wonders why Canada is a breeding ground for ISIS
The Greatest Threats to Canadian National Security and or the Rule of Law in Canada are those who betray their legal and fiduciary obligations to Society. Namely, the Police Forces, The Crown Attorney's the Attorney General of Ontario and "The Gestapo" of Ontario, The Childrens Aid Societies of Ontario.
Check out the movie at www.Blakout.ca
Ottawa Mens Centre