Brutal police beating of model shocks Australia (VIDEO)
Published time: December 04, 2014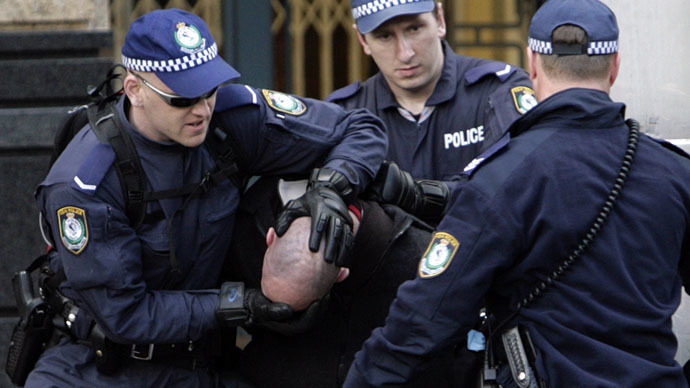 A video showing three Sydney police officers brutally beating a young woman has gone viral, with over 750,000 views on Facebook. During the clip, the victim is repeatedly hit with a police baton and appears to be kicked in the head by a male officer.
Police brutality has been hitting the headlines in the US, but now it seems the unfortunate trend has made its way to Australia. The woman in question, Claire Helen, who works as a model and actress and was on the receiving end of recurring blows from a police officer, said: "It was the most frightening and humiliating experience of my life."
Law enforcement officers allege that Helen punched a policewoman in the mouth, as well as resisting arrest – an action that the model stringently denies. "They pushed me down. They hit me and kicked me. They pulled my dress over my head," she said, speaking to Channel Nine. Onlookers could be heard shouting, "Let her go," and, "She's not resisting arrest."
https://www.youtube.com/watch?feature=player_embedded&v=kDP0GcSFnBc#t=0
Helen, who is 1 meter, 60 centimeters tall and weighs 55 kilograms, insists she was just enjoying a quiet night out when she was accosted by law enforcement officers, who were much bigger than her.
"We weren't drunk. We'd been with people playing soccer and went out to have a few drinks. I'm not the sort of person who goes out getting pissed on a Wednesday night. I'm trying to make it as a model and actress. I can't go out every night getting wasted. I definitely don't ever get in circumstances like this," she told Channel Nine news.
The incident happened in the Kings Cross area of Sydney, which is home to a number of bars and nightclubs, after Helen and a group of friends haggled over a taxi fare, according to police. The law enforcement agency also added that a male member of the group punched the taxi driver in the stomach.
However, Helen alleges that the taxi driver had charged the group the wrong amount, which led to the trouble starting.
"He had the meter running before we got in, so we got out," she said. "He said something to us and we said something back, but then he pushed one of my friends and called the police. Then the police showed up and you saw what happened," she added, Channel Nine reported.
READ MORE: Aussie state gives police power to disperse protests pre-emptively
The video has taken the internet by storm and has already been viewed by over three quarters of a million people on Facebook. Many users criticized Helen and defended the police. One woman wrote: "She deserved it. You're supposed to respect your elders and respect the law," with another adding, "She's not resisting arrest?? Really... I thought that if you weren't resisting they would've had the cuffs on you 1 sec into the video… she got what she deserved.... hopefully that taught her a lesson."
Kings Cross Superintendent Michael Fitzgerald said he was satisfied police had used appropriate force, adding: "Police are not punching bags, neither are taxi drivers."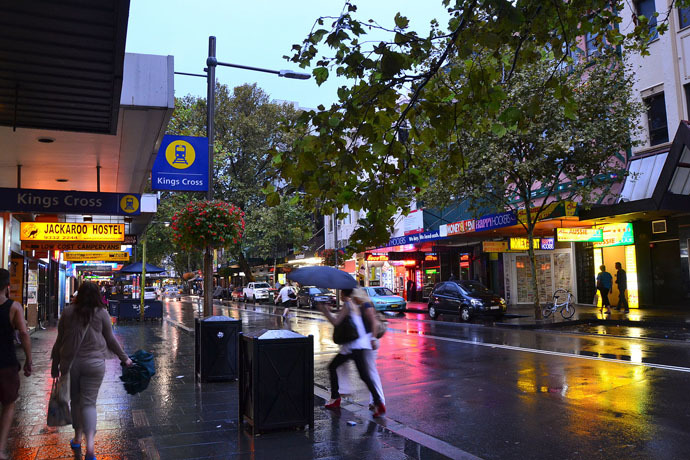 Darlinghurst Rd, Kings Cross, Sydney (Photo from wikipedia.org)
He added that police have reviewed CCTV footage of the incident, and they say it justified why they took such a heavy-handed approach.
"I have viewed the footage that has been uploaded on social media," Fitzgerald said. "But I've also had the opportunity to view the entire CCTV from the City of Sydney cameras which shows the entire incident. [It] clearly shows the female offender punch the female police officer in an unprovoked assault which caused the wrestle that you see on YouTube," Fitzgerald added, ABC News reported.
The officer who repeatedly struck Helen with a police baton will not face any charges, police said. Helen and three men have been arrested with a range of offences, including assaulting a police officer, assault, affray and resisting arrest. They have been granted bail until a court hearing on January 6.