Bill Cosby was accused of sexual assault by a Canadian woman 10 years ago. Nothing has been the same for him since
Adrian Humphreys | December 5, 2014
The beginning of the demolition of Bill Cosby's brand as North America's affable father figure began on Jan. 13, 2005, when a woman in Pickering, Ont., east of Toronto, reported a sexual assault to her local police.
At that time, though, as is often the case with the first person to point an accusing finger at a seemingly unassailable public figure, the response was muted, hesitant, awkward and cautious.
Andrea Constand
Next month marks 10 years since Andrea Constand told Durham Regional Police the hugely popular actor, star comedian and celebrity pitchman drugged her and sexually assaulted her at his home in Cheltenham, Pa.
That moment in time is important, says the man who was the U.S. prosecutor in Pennsylvania who declined to lay criminal charges against Mr. Cosby in her case.
"If all the allegations are true and he really is a serial sexual predator, we stopped him — we must have given him a good scare," Bruce L. Castor, Jr. told the National Post. "There are no complaints of Bill Cosby's sexual misconduct after they are alleged to have occurred in my county.
"Andrea going to police in Ontario at that time, she is presumably responsible for at least stopping him from doing it again and she deserves credit for that."
That is a proposition slow in coming.
At the time, the blowback against her was fierce.
In the 1980s, Mr. Cosby's broad appeal made him one of the most sought-after celebrity endorsers, with a Coca-Cola executive once saying the "three most believable personalities are God, Walter Cronkite and Bill Cosby."
That was the figure Ms. Constand pointed at and declared a predatory pervert.
Bill Cosby performs at the Maxwell C. King Center for the Performing Arts, in Melbourne, Florida, on Nov. 21, 2014.
Tabloids cut deals with him and touted Mr. Cosby's insinuation she was trying to extort money, interviewers were told not to ask about the case and Mr. Cosby's career continued into the celebratory dotage of a comedic icon.
Promotions for his current tour call him "a national treasure."
Since then, however, some two dozen other women have claimed Mr. Cosby, now 77, forced unwanted sexual contact, although all incidents predate Ms. Constand's complaint. Some of the unproven claims are similar, a pattern of befriending, doping and molesting younger women under the guise of offering assistance.
A decade ago, Ms. Constand's complaint started whispers that have become screams; tippy-toed reporting has turned to humiliating headlines; social media outrage has skewered Mr. Cosby's image.
A slew of Mr. Cosby's live gigs, television appearances and projects have now been shelved — even reruns of The Cosby Show, the biggest TV series of the 1980s, were dropped by TV Land — although upcoming live performances in Canada are still scheduled, and selling well, starting with Kitchener, Ont., on Jan.7, followed by London and Hamilton.
No criminal charges have been laid against Mr. Crosby in any of the cases and he has denied the accusations.
Many fans stand by him. Last month in Florida he drew a standing ovation as he took the stage wearing a shirt with child-like letters saying "Hello Friend." It was a throwback image, reminding everyone of his congenial approach of unabashed goofiness and comfy sweaters.
Where Mr. Cosby was folksy and funny, Ms. Constand was sporty and competitive.
She grew up in east Toronto living for basketball. At Scarborough's Albert Campbell Collegiate she led her high school team to city and provincial championships. By 1988, in Grade 10 and standing 5-foot-11, she was branded an all-star; by Grade 12 she was among the best female high school players in the country.
As graduation loomed, having reached her full height of 6-feet and posting outstanding statistics on the court, Ms. Constand was one of the most heavily recruited female basketball players by National Collegiate Athletic Association schools in the United States.
In 1992 she started at the University of Arizona on an athletic scholarship, although a mix-up in her school credits when they crossed the border almost derailed her enrolment. Over the next four years she helped the Wildcats take the women's National Invitational Tournament title and played for Canada's national team.
The following year she signed a professional contract with a basketball team in Italy, leaving university a few credits shy of graduation. She returned to complete her degree in 1999 and continued with basketball as a career.
In 2001, Ms. Constand got a job at Temple University in Philadelphia as the director of operations for the women's basketball program.
Mr. Cosby was an important part of Temple's landscape. Once a student, always a booster and, starting in 1981, a member of the university's Board of Trustees, Mr. Cosby was the school's most famous alumnus and a huge part of its fundraising and public profile.
About a year into her tenure at the school, Ms. Constand met Mr. Cosby through a mutual Temple connection. The two became friends. Both of them agree on that. They saw each other socially, including at group and one-on-one dinners at Mr. Cosby's home.
'If all the allegations are true and he is a serial sexual predator, we stopped him — we must have given him a good scare'
In January 2004, she later claimed in a civil lawsuit in the United States, Mr. Cosby invited her to his house, offering help in career decisions. After arriving about 9 p.m., she told him she felt stressed about her job plans.
Mr. Cosby offered her three blue pills, saying they were herbal medications "which would help her relax," she claimed. She asked if she needed to take all three — he assured her she did and she gulped them down.
Soon after her "knees began to shake, her limbs felt immobile, she felt dizzy and weak and she began to feel only barely conscious." Mr. Cosby led her to a sofa. From behind he sexually molested her while she "remained in a semi-conscious state," she claimed.
She said she lost consciousness and awoke after 4 a.m.; her private areas felt uncomfortable and "her clothes and undergarments were in disarray." Mr. Cosby greeted her wearing a bathrobe, she claimed.
Mr. Cosby denied assaulting her.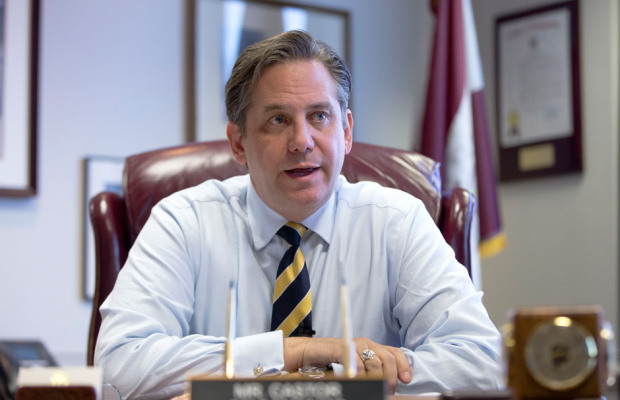 U.S. prosecutor Bruce L. Castor, Jr. on why he decided not to lay criminal charges against Bill Cosby: "What I think and what I can prove are different things. I can't stand in front of a judge and say, 'My gut tells me he did it.' "
Ms. Constand left her job at Temple three months after, returning to Ontario and staying with her parents while studying to become a registered massage therapist, it was reported at the time.
That August, she took her mom and dad to meet Mr. Cosby when he performed at Casino Rama in Orillia, Ont. Her parents later said something seemed to be bothering her but they weren't sure what.
That January she made a report with Durham police and the force forwarded it to police in Pennsylvania where Mr. Cosby lived. She later met with police investigators to make her allegations there.
Neither Mr. Cosby nor his lawyer is willing to discuss the incident involving Ms. Constand. John P. Schmitt, counsel to Mr. Cosby, issued a statement saying: "differences between Mr. Cosby and Ms. Constand were resolved to the mutual satisfaction of Mr. Cosby and Ms. Constand years ago."
Andrea Constand, the first person to file a sexual assault complaint against Bill Cosby.
Messages left for Ms. Constand with her family by the Post were not returned prior to deadline.
Mr. Cosby did address the allegations at the time, once to police officers conducting Mr. Castor's investigation and once in civil proceedings.
In his response to Ms. Constand's lawsuit he agreed they were friends at Temple; he "attempted to help and encourage her professional development" and they saw each other socially, according to his response filed in court.
He recalled her complaining of tension and an inability to sleep during one visit to his home. He offered her one and one-half tablets of over-the-counter Benadryl, he said.
Mr. Cosby denied sexually assaulting her and denied he was wearing a bathrobe when she woke up. Before she left, he said, he served her a homemade blueberry muffin and a cup of hot tea for breakfast.
His denials were direct and the claim was settled out of court in 2006.
In front of police, though, Mr. Castor said Mr. Cosby seemed "evasive" and "wanted to hide" behind elaborate answers, giving investigators "longer accounts than the questions warranted. It sounded wrong to me," he said in an interview.
"But what I think and what I can prove are different things," Mr. Castor said. "I can't stand in front of a judge and say, 'My gut tells me he did it.' "
The investigation was thorough, he said, and Mr. Cosby's celebrity did not gain him easier treatment. But his status did provide him with outstanding legal advice.
"It is not that unusual that someone of prominence gets into trouble," Mr. Castor said. "The fact that I knew who he was is reasonably unusual, though, because I don't pay much attention to the goings-on in Hollywood.
"Those things do affect police and prosecutors — but not in the way you might think," he said, adding that media attention means public scrutiny and added incentive to do everything correctly.
"It blew up internationally within a day or two," Mr. Castor said. "The entire world was watching."
'My instinct tells me he did molest Andrea Constand and my instinct tells me he was getting away with it for a long time'
Ms. Constand and her family, friends and co-workers were interviewed, as well as acquaintances and employees of Mr. Cosby's. The comic's home was searched, phone records examined and statements — made through Ms. Constand's lawyer — were read from other women claiming similar experiences.

Although Ms. Constand was the first to go to police, it was still a year after the incident. Toxicology reports, DNA tests, other forensic examinations became useless and investigators could not get enough evidence that was admissible in court, he said.

Mr. Cosby making himself available to investigators for interviews, accompanied by his lawyer, also robbed prosecutors of using the legal argument of "tacit admission" that might come from refusing to co-operate, Mr. Castor said. That had been the veteran prosecutor's last gambit.

In February 2005, Mr. Castor informed Ms. Constand that charges were not being laid. Then he issued a press release.

By then, Ms. Constand had turned to civil court for any remedy, lodging a lawsuit claiming at least $150,000 for damages. During those proceedings, her lawyer said 13 more victims were prepared to come forward.

Mr. Castor said the interest in the criminal case soon dissipated. "It was heavily reported for a day or two but I don't recall it dragging out long after that," he said.

Until recently.

In October, another comedian, Hannibal Buress, did a bit on Mr. Cosby in a stage routine, repeatedly calling him a rapist. A video of it went viral online, leading to more questions about Mr. Cosby's past. His stony silence in an NPR radio interview when asked about it made news. A social media promotion by Mr. Cosby — inviting people to make an online "meme" of him and share it — went sideways when memes highlighted assault allegations. His meme generator was shut down.

The rekindling of interest brought more attention to Ms. Constand's case and other women came forward. Ms. Constand was no longer a lone voice.

"My instinct tells me he did molest Andrea Constand and my instinct tells me he was getting away with it for a long time," Mr. Castor said.

There were no criminal charges then and the statute of limitations means none are likely now.

All that may be left, said Mr. Castor, is what Mr. Cosby is now getting — publicity no public figure wants.

"He certainly is getting a public shaming, like we used to do by putting people in a stockade in front of the courthouse," he said. "He's getting that on a 21st-century global scale."

Almost as metaphor, on Friday someone scribbled the word "rapist" across Mr. Cosby's star on the Hollywood Walk of Fame in Los Angeles.

National Post

• Email: ahumphreys@nationalpost.com

Commentary by the Ottawa Mens Centre

When it comes to Predators and child abusers, spare a thought for the victims of Marguerite Isobel Lewis perhaps Canada's most evil of criminals.

Marguerite Isobel Lewis is a lawyer for the Ottawa chapter of Ontario's Billion Dollar Government funded unaccountable Criminal Organization called the Children's Aid Society of Ottawa.

Marguerite Isobel Lewis Fabricates Evidence to justify unwarrented incarceration of four year old child Citizens of Australia and Russian in Ottawa Ontario.

She does this by reading the evidence to a judge and claiming that the evidence was riddled with evidence of father being a pedophile when no such admissions were made.

Further Marguerite Isobel Lewis further fabricated evidence that a mother's admissions of slapping a child on the back because the child hit her to stop her, continuing to assault his sister.

Marguerite Isobel Lewis and Bill Cosby have a lot in common. Both are abusers of the wost form. Marguerite Lewis is even worse, she abuses innocent children and the victims of domestic violence.

Like Bill Cosby, the police did not charge her with obstruction of justice but, One Ottawa Detective Sgt. John Gibbons was outraged, "She lied to the judge, it's perjury".

That investigation suddenly ended with a phone call from another CAS Child Abuser, Tracy Engelking who sought and obtained ex parte orders for custody to cover up an illegal "extended visit". Thats an euphemism for the CAS doing their usual Criminal Behaviours of making "custody decisions" for a violent mother rather than return the child to a "father".

If you think Marguerite Lewis and Tracy Engelking are bad, then everyone needs to know that the worst Child Abusers of Society are those with a duty to protect.

In Ontario, "The Gestapo" ( that's the name lawyers refer to the CAS) get their own professional fabricators of evidence, their lawyers, appointed to the Ontario Superior Court of Justice as Judges where they abuse children by "Rubber Stamping" illegal and improper orders for Ontario's CAS.

Tim Minemma a former CAS lawyer from Kingston, personally fabricates evidence as a judge. Justice Monique Metivier recently "retired" to avoid an investigation by the Judicial Council of Obstruction of Justice by granting CAS exparte orders for custody without any notice or hearing in contempt of the legislation.

Justice Jennifer Belishen recently terminated a child's relationship with his father because the mother engaged in uprovoked violence towards the children, the father and even her new male partner with years of habitual violence that included numerous attempts at strangulation.

Despite an Ottawa Detective giving evidence that the mother repeatedly threatened to kill the father and assaulted him, just on one day 55 times, that resulted in the Ottawa Police laying criminal charges against the mother, Justice Jennifer Belishen claimed the father committed heresy for suggesting that he was the victim of female violence.

Then there is an even worse Child Abuser. Ottawa Crown Attorney TARA DOBEC recently stayed charges against a violent female child abuser despite evidence that Justice Paul Kane said "If she was a male, she would have been automatically charged and automatically gone to trial" that is, the Ottawa Police and the Crown Tara Dobec gave her a "Free Pass".

Society has a serious problem with Gender Bias and above are some examples of Ontario's Worst Child Abusers and Criminals who are the very people who should be protecting children and prosecuting child abusers.

Then there are the Governments who turn a deliberate blind eye to Criminal Child Abuse such as the Ontario Government and even the Australian Government's foreign minister Julie Bishop who while in opposition expressed concern but once she became foreign minister has no interest in an Australian Child Citizen being abused by the State of Ontario.

Ottawa Mens Centre








When it comes to Predators and child abusers, spare a thought for the victims of Marguerite Isobel Lewis perhaps Canada's most evil of criminals.

Marguerite Isobel Lewis is a lawyer for the Ottawa chapter of Ontario's Billion Dollar Government funded unaccountable Criminal Organization called the Children's Aid Society of Ottawa.

Marguerite Isobel Lewis Fabricates Evidence to justify unwarranted incarceration of four year old child Citizens of Australia and Russian in Ottawa Ontario.

She does this by reading the evidence to a judge and claiming that the evidence was riddled with evidence of father being a pedophile when no such admissions were made.

Further Marguerite Isobel Lewis further fabricated evidence that a mother's admissions of slapping a child on the back because the child hit her to stop her, continuing to assault his sister.

Marguerite Isobel Lewis and Bill Cosby have a lot in common. Both are abusers of the wost form. Marguerite Lewis is even worse, she abuses innocent children and the victims of domestic violence.


Note: Marguerite Lewis does not deny that she fabricated evidence and or obstructed justice. She continues to work as a lawyer for the CAS Ottawa.


Ottawa Mens Centre