Cairns stabbing: mother arrested over deaths of eight children
Cairns mother arrested over stabbings
The mother of seven of the eight children killed in Cairns has been arrested and is being kept under police guard in hospital.
The mother of seven of the eight children killed at a house in Cairns on Friday has been arrested.
The 37-year-old woman, who Fairfax Media has not named at this point in respect of cultural protocol as it would identify the dead, remained in a stable condition under guard at the Cairns Base Hospital on Saturday morning.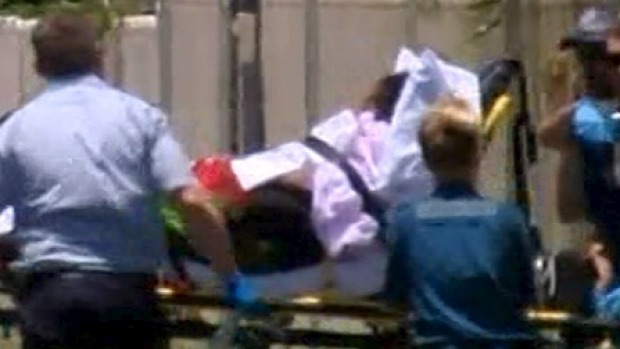 Detective Inspector Bruno Asnicar said the woman, who was placed under arrest overnight in hospital, was "lucid" and speaking to police.
"She's awake, lucid and able to speak," he said.
"…We're not looking for anyone else.
Cairns stabbing: eight children dead in Manoora home
Eight children aged 18 months to 15 years have been have been found dead in north Queensland. Photo: Ian Hitchcock/Getty Images
"We're comfortable that the community is safe and there's no need for concern."
Speaking near the Manoora home, which was a hive of activity on Saturday morning with a steady stream of police and mourners, Inspector Asnicar said the home had not previously been a subject of concern for police.
"It's not a problem house, as has been speculated," he said.
"This is just an ordinary neighbourhood with a lot of good people and a lot of kids in the area.
"This is just something that's caught everybody by surprise – it's just an absolutely tragic event."
Seven of the children lived at the Murray Street house and one was visiting, Inspector Asnicar said, and was "from this part of the world".
Inspector Asnicar said the dead children had all been removed from the Murray Street house and autopsies would be performed on Saturday.
A number of weapons had also been found, he said, which would be forensically examined in coming days.
Inspector Asnicar said the ages of the children ranged from 18 months to 14 years, not 15 as previously advised.
He said he expected the house to remain a crime scene for "at least a couple of days".
A number of knives had been found in the house, he said.
"Our very, very good scientists will be looking at those weapons and at some stage we'll be able to determine if we have the weapon," he said.
Investigating police were faced with horrific scenes.
"My officers are coping very well," he said.
"They're all professional people, they're very skilled in what they do.
"We unfortunately get exposed to this type of thing more often than anybody would like to, but all the support mechanisms are there in place for us and for my staff.
"They'll be fine."
Assistant Commissioner for the northern police region Paul Taylor said officers had been sent to the Torres Strait to liaise with the community there.
The family hailed from Erub Island.
"North Queensland has a very close-knit, multicultural community," he said.
"Previously during disaster events, we've seen how communities on the back of disasters have galvanised their support for each other across different faiths, different cultures, where they've united to support people during their grief.
"I see this as no different."
Earlier reports there were two people in hospital were incorrect, Inspector Asnicar said.
Pastor Michael Gela, who hails from same place as the family - Erub Island in the Torres Strait, is her traditionally adopted brother.
"The family had concerns that she was suffering depression but would not get help. She said to me and my wife 'I'm not a girl who'll get advice from anyone'," he said.
"She was always pretty polite when she was young. She always had a very good personality."
Lifeline offers support for people in crisis on 13 11 14.