U.S. blacklists Vladimir Putin's biker gang buddies, the Night Wolves, in new round of sanctions
Tom Parfitt, The Telegraph | December 21, 2014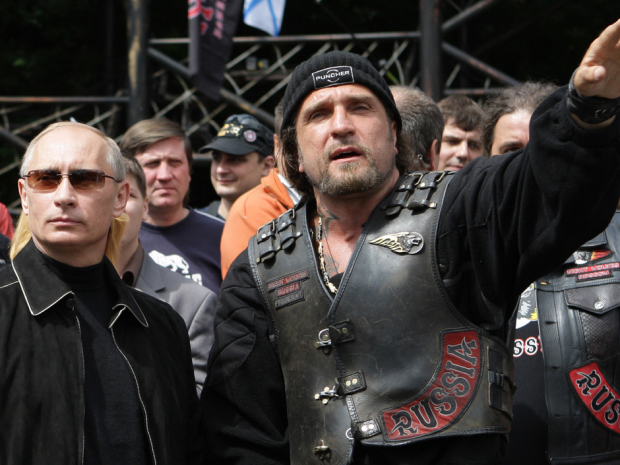 MOSCOW — Vladimir Putin's favourite biker has been targeted by new U.S. sanctions over the Kremlin's armed intervention in Ukraine.
Barack Obama, the U.S. president, issued an executive order this weekend prohibiting trade with the Black Sea peninsula of Crimea, which Moscow seized from Ukraine in March.
Among those added to the U.S. Treasury blacklist are the Night Wolves biker gang, a group of denim and leather-clad ultranationalists that Mr. Putin has befriended.
Alexander Zaldostanov, 51, the head of the Night Wolves who frequently meets Mr. Putin, was on the list, along with prominent figures from the pro-Moscow rebel authorities fighting government troops in eastern Ukraine.
Vladimir Putin (left), listening to Alexander Zaldostanov, leader of the Night Wolves.
Vladimir Putin (right), then Russia's Prime Minister, riding a Harley Davidson Lehman Trike with biker gang leader Alexander Zaldostanov, nicknamed "the Surgeon."
Also on the list was Natalya Poklonskaya, a 34-year-old prosecutor from Crimea, whose good looks and staunch criticisms of Ukraine's pro-Western independence movement made her a heroine in pro-Kremlin circles earlier this year. She became an internet sensation when she was appointed in March, attracting a particular following in China and Japan, where she prompted a wave of anime fan art.
The U.S. Treasury said the Night Wolves were being targeted because members served in an armed group in Ukraine and took part in storming a natural gas facility and the naval headquarters in Sevastopol. Last night, the bikers' leader told a Moscow radio station that he wanted to thank Mr. Obama for "appreciating" his achievements by adding him to the list.
"I've already been called and congratulated by about a hundred people," said Mr. Zaldostanov, with whom Mr. Putin has ridden on a Harley Davidson trike. "I would very much like to thank Obama for recognising my modest services to the motherland. And I promise that I will do all I can so that his concern for me only grows."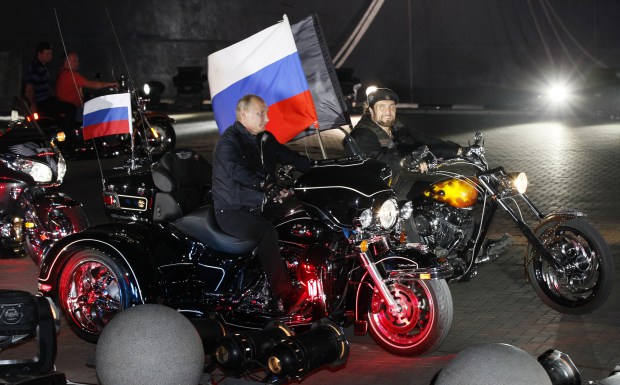 Russian Prime Minister Vladimir Putin (L) and the leader of the Night Wolves biker group, Alexander Zaldostanov (R) ride motorcycles in August 2011 at a bikers' festival in the Black Sea port of Novorossiysk, Russia.
Ms. Poklonskaya, who has threatened to deport anyone from Crimea who does not recognize its annexation, posted a picture of herself smiling broadly on Facebook and wrote in a post in English and Russian peppered with smiley symbols: "Thanks for the new sanctions, the United States! The European Union, Switzerland, Canada, Australia, Japan, USA… Who is next?"
Mr. Obama's order prevents U.S. companies from importing or exporting any goods or services from or to Crimea. It also prohibits individuals or companies buying property or businesses there, or financing Crimean companies.
People added to the Treasury's "specially designated nationals" list have their assets blocked in the U.S. and American citizens are "generally prohibited from dealing with them".
The U.S. measures were announced a day after a European Union ban on investment in Crimea, which halts European help for Russian Black Sea oil and gas exploration and outlaws European cruise ships from calling at Crimean ports. Canada has also announced new sanctions.
Russia's President Vladimir Putin (L) looks at Night Wolves leader Alexander Zaldostanov after awarding him at a meeting with members of the Military History Society in the Novo-Ogaryovo residence outside Moscow, on March 14, 2013.
Russia's foreign ministry issued a sharp-worded response to the new measures. "The rationality of the initiators of such decisions arouses growing concern," said a spokesman, suggesting sarcastically that a change of mind could never be ruled out. "The White House needed half a century to recognizes the futility of its sanctions blockade against Cuba. Well, we will also wait."
The spokesman added: "We remind those who are still labouring under the illusion that the whole world needs to live as Washington and Ottawa dictate: Crimea is a primordial and integral part of Russia."
Moscow would "start to develop countermeasures" to the Western sanctions, he said.
Measures against the tourism and oil and gas sectors could cut deep, but Sergei Aksenov, the leader of Crimea, claimed that the sanctions merely repeated those already introduced by the U.S. and EU "in the first days of the Crimean Spring".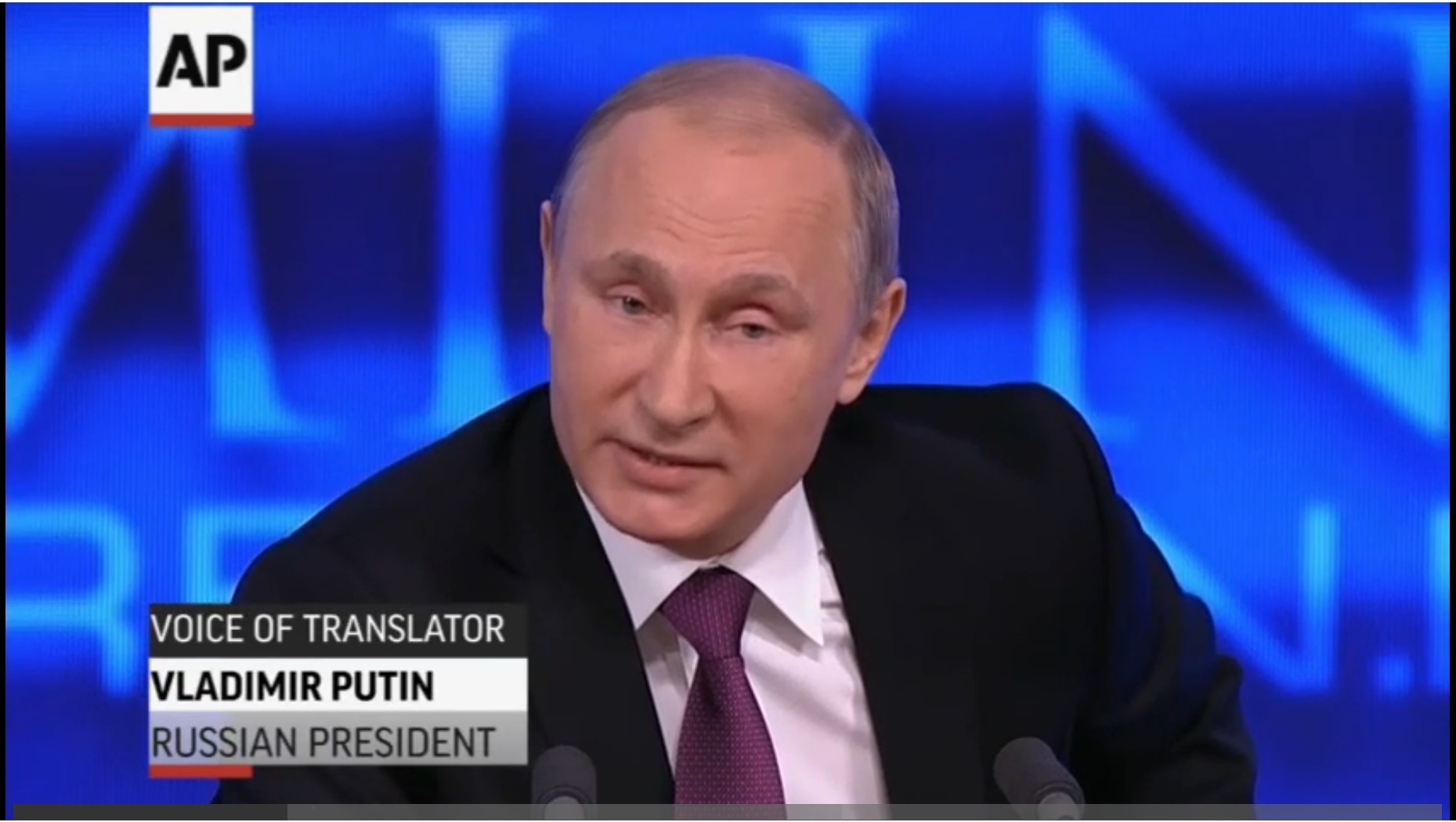 Mr. Putin was robust in defence of the annexation of Crimea when he gave his annual press conference on Thursday.

Russia's economy has faltered amid Western sanctions and a falling oil price, and the sliding rouble hit an all-time low on Tuesday when it reached 79 to the dollar.

Asked whether the downturn was Russia's "payback" for seizing Crimea, Mr. Putin answered: "This is not payback for Crimea. This is actually the price we have to pay for our natural aspiration to preserve ourselves as a nation, as a civilization, as a state."

Commentary by the Ottawa Mens Centre

It's time for the President of the Russian Federation to ban some Canadians from Entering Russia.

#1 Marguerite Isobel Lewis is an Abuser of a Russian Child Citizen in Ottawa. Specifically she Fabricated Evidence to a Judge of the Ontario Superior Court to NOT return a Russian child to his father.

Further she placed the Russian Child Citizen with a violent Mother who Marguerite Lewis knew was a Child Abuser. Marguerite Lewis acknowledged the mother had assaulted two children, and multiple male partners.

The Ottawa Police charged the mother with death threats against the father and a charge of "assault" for some 55 assaults that occurred on just one day.

After the mother completed a feminist Anger Management course, she assaulted her new male partner by placing her hands in a strangle hold around her neck and with her fingers intertwined around his windpipe explained "I know what I am doing, my father was KGB".

When that male reported the assault to the Ottawa Police she threatened him with fabricated allegations to have his kids taken away.

Marguerite Lewis gave other evidence to the court that she knew was fabricated and false. She is perhaps one of Ontario's worst Child Abusers and as a lawyer for Ontario's Child Protection "private contractor" she had a special duty to protect children not abuse them.

The Ottawa Police commenced an investigation into Marguerite Lewis, File No. 13-72534 by a Sgt. John Gibbons who was outraged "She lied to the judge, its perjury" he said.

That investigation was brought to a swift end with one phone call from CAS lawyer TRACEY ENGLEKING who is also another of Ontario's Worst Child Abusers who has abused Russian Children in Ottawa. She sought and obtained an "exparte" order for custody without notice to the father, and without any hearing by asking a Corrupt Ottawa Judge MONIQUE METIVIER to "Rubber Stamp" an order for custody to place Russian Children in the care of a violent parent who Tracey Engleking knew was extremely violent and had repeatedly assaulted the children and the mother's partners.

In Sum, Russian President Putin should BAN from entry to Canada
Marguerite Isobel Lewis a child abusing lawyer of Ottawa CAS
Tracey Engleking a child abusing lawyer of the Ottawa CAS
Monique Metiver a corrupt child abusing Judge of the Ontario Superior Court
Jennifer Belishen a corrupt child abusing judge of the Ontario Superior Court
Robert Maranger a corrupt child abusing judge of the Ontario Superior Court.

Russian President Putin should consider banning from Russian and all employees of the Criminal Cartel of Children's Aid Societies of Ontario who have no accountability and who are more interested in "Gay Pride" than providing help for male victims of domestic violence. In fact, there is NOT one CAS in Ontario who has any program to deal with violent women.

Ontario Court decisions repeatedly refer to fabrication of evidence by the Children's Aid Societies of Ontario and their lack of accountability.

With the large number of Russian Immigrants to Ontario, the Children's Aid Societies of Ontario are most probably abusing a large number of Russian Child Citizens in Ontario.

Russia needs to declare this a terrorist / criminal organization and ban from entering Russia any employee of the Ontario Children's Aid Society.

If Russia does this, it will be doing some valuable Justice for all the Russian Children residing in Ontario and send a message to the Ontario and Canadian Government that Government Funded Child Abuse of Russian Children is unacceptable.

Ottawa Mens Centre