Increasing number of firearms on Ottawa streets due to influx of illegal guns from the U.S., police say
Jordan Press, Postmedia News | December 30, 2014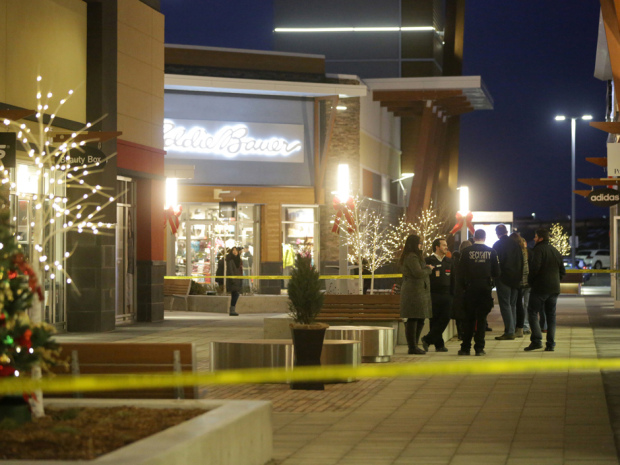 Police tape outside Polo Ralph Lauren store as police investigate a Boxing Day shooting at the Tanger Outlets off Huntmar Rd. in Kanata (Ottawa) this afternoon, Friday, December 26, 2014.
Handguns smuggled from the eastern seaboard of the United States, funnelled through border crossings in eastern Ontario, have contributed to an increasing number of firearms on Ottawa's streets, police say.
Those firearms, some of which come from states such as Virginia and Florida, have wound up more often in the hands of Ottawa gang members who have been involved in shootings twice in the last three days. Those incidents — one on Boxing Day at Tanger Outlets mall in Kanata, another downtown at Bank and Slater streets early Monday morning — helped the capital set a record for annual shootings, 48 in 2014.
Tackling that growing problem has shown up in arrests, raids and seizures in the past few months.
For instance, in mid-December Ottawa police laid 254 charges against 27 people, seized seven firearms and more than 400 rounds of ammunition as part of a six-month investigation into brazen gun violence in the capital.
For criminals, if they want to find a gun, they are more than available on the street for the right price.
"There are more guns out there," said Ottawa police Det. Chris O'Brien, who works on the force's guns and gangs unit. "The trend in the last 10 years is there has been an increase in the number of guns on the street."
About half of all guns seized by Ottawa police are locally sourced, meaning they have likely been stolen during robberies from local gun owners or dealers. In the past, weapons moved between Montreal and Ottawa, with some Montrealers renting out guns to gang members in Ottawa.
The other half of seized weapons are "foreign-sourced," meaning they are smuggled across the border.
According to the most recent data from the Ontario Provincial Police, foreign-sourced guns made up the majority of "crime guns" seized by officers. The 2011 numbers showed that 60 per cent of guns used in crimes were smuggled across the U.S. border, 20 per cent were locally sourced, while the remaining 20 per cent couldn't be traced.
Ottawa's foreign-sourced guns usually arrive from American states such as Florida, Virginia or Georgia, said O'Brien. They don't usually come from New York State given that state's stricter gun laws, he said.
Often, their point of entry is around Cornwall, including the Akwesasne Mohawk Territory, O'Brien said.
The Canada Border Services Agency in the past year has increased its focus on stopping firearms from illegally entering the country: The agency's most recent annual performance report noted that the number of CBSA-led firearm prosecutions more than doubled in the past fiscal year from the average of the preceding three years.
It is often handguns that gang members use when they open fire, but they are not cheap. A handgun that sells in the U.S. for about $75 can sell on the black market in Canada for $1,500 to $3,000 for a more expensive handgun such as a nine millimetre, but the price also based on who is buying and who is selling.
Handguns, however, have become required equipment for gang members to protect their turf or expand their holdings. Once one drug dealer or gang members starts carrying a weapon, others do the same so they don't cede power to others, O'Brien said.
The weapons of choice in Ottawa are nine-millimetre and .40-calibre handguns, the latter of which was used in the Boxing Day shooting at Tangers Outlets between rival members of the Crips gang.
— With files from Dylan Robertson
Commentary by the Ottawa Mens Centre