B.C. implements new vulnerable-witness policy years after Robert Pickton case
By Staff The Canadian Press
January 6, 2015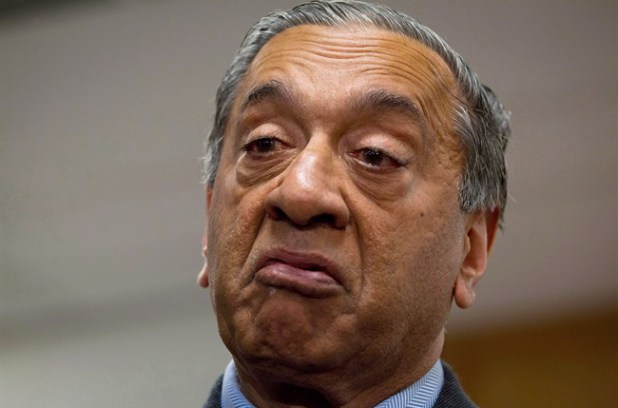 Missing Women's Inquiry Commissioner Wally Oppal pauses as he speaks to reporters after the public inquiry finished more than seven months of hearings in Vancouver, B.C., on Wednesday June 6, 2012.
VANCOUVER Ė The failure of Crown prosecutors to press a drug-addicted woman nearly murdered by Robert Pickton to testify against the serial killer has inspired new policy to support vulnerable witnesses.
B.C.ís criminal justice branch has implemented a series of new regulations that will help victims participate in criminal prosecutions, fulfilling a key recommendation made by the public inquiry looking into Vancouverís missing women.
A 1997 trial against Pickton that may have stopped his killing rampage years earlier was called off when the Crown decided the woman he attacked was unreliable as a witness because she was a heroin addict.
The new policy recognizes that for cases involving allegations of serious personal injury, vulnerable victims require ongoing support and their participation in the justice system needs to be encouraged.
Missing women inquiry commissioner Wally Oppal says the new policy is right on, noting a major downfall in the Pickton case was that women distrusted police and that meant authorities sometimes missed crucial information.
Pickton was originally charged with killing 26 women, most of them from Vancouverís impoverished Downtown Eastside, but the remaining charges were stayed when he was convicted of killing six women.
Commentary by the Ottawa Mens Centre
When it comes to mass murderers, society applies a gender lens.
Take Kala Homolka, Canada's most notorious female "Victim".
Why Canada is a Fas.cist Cor.rupt Society

In Ottawa recently a Detective Peter Van Der Zander Fabricated Evidence NOT to
charge a Dentistry Student for attempting to strangle to death the father of
their children.

The attending officers and a witness noted that the father was bleeding around
the neck with scratch marks around his neck, consistent with an attempt to
strangle. His bruises were rather a spectacular colour of blue and purple with
circles indicating finger pressure.

Detective Van Der Zander also listened to a stereo audio recording of the entire
event that was stopped after the police arrived and taken by the police so it
could not have been "edited".

Van Der Zander Fabicated an Occurrence report that the Female Medical Professional
"denied pulling his hair and attempting to choke him" He expressed a concern
that IF he let her go without charges that "next time" she might kill him with a
knife" so he released her so she could "call police" next time.

He sent her home with a "victim support" person, a free taxi reserved by the
Ottawa Police for women who attempt to strangle the full time fathers of their
children.

The Ottawa Police after two years of failing to comply with a court order for
disclosure finally provided a Video Recording of Van Der Zander's Interview with
the Female Strangler.

That interview shows that Van Der Zander never asked her if she "pulled his hair
and attempted to choke him".

Det. Peter Van Der Zander claimed however that she must have been provoked and
her assault was "a reflex action" however not one of the several claimed
expressions that Van Der Zander Claimed he "heard" on the recording did in fact
exist.

He then kept the father incarcerated for a further 16 hours and AFTER he
released the mother, he finally interviewed the father, failed to photograph any
of his injuries and interrogated him accusing him of being a pedophile without
any such allegation or evidence to justify that terrorism.

The Female "medical professional" was subsequently ordered to do "Anger Management" and she chose to do it with an extreme Feminist organization called "Jewish Family Services" who coincidently do not provide services for male victims of
abuse. Two days AFTER she completed anger management, she assaulted her new male partner with a Strangle Hold to the neck, "with her hands around his neck and
her thumbs intertwined around his neck" saying " My Father was KBG, I know what
I am doing".
O'Canada, makes me want to puke.

Ottawa Mens Centre
.