US police officer Grant Morrison shown sobbing after killing unarmed man
January 15, 2015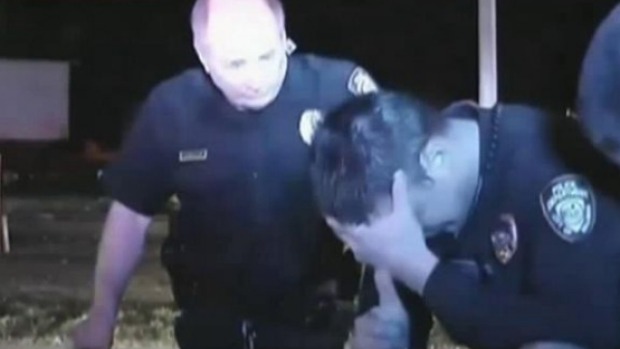 US police officer sobs after fatal shooting
The Montana policeman breaks down after realising he's shot and killed an unarmed man
It's the heartbreaking moment a US police officer realises his life is destined to return to a hell he thought he had been freed from.
In August 2013, a coroner's jury determined Grant Morrison was within his rights when he shot and killed Jason Richard Shaw, 32, during a routine traffic stop four months earlier.
Shaw was outside the vehicle, ignored Morrison's commands and reached for what was later found to be a replica BB gun.
Dashboard camera video shows police officer Grant Morrison breaking down moments after shooting an unarmed suspect. Photo: Billings Police Department
After going through an emotionally draining process to clear his name, six months later Morrison killed another man, also during a traffic stop.
Dashboard camera footage released recently shows him slumping to the ground sobbing, the reality setting in that he has shot another unarmed citizen, Richard Ramirez.
It's the moment he begins to digest the feeling of going back to square one.
On April 14 last year, Morrison, from Billings in Montana, repeatedly ordered Ramirez, 38, and the other four occupants to get out of their car, police footage shows.
He claimed in evidence to an inquest this month that Ramirez "reached for his waistband" during a 30-second encounter.
Morrison said he feared for his life and thought Ramirez was going to kill him.
"I thought he was going to pull a gun on me," Morrison is heard saying through tears on the video.
In a separate video of the shooting, the back seat of the car largely obscures Ramirez's actions, although Morrison can be seen withdrawing his weapon and shooting into the vehicle at close range.
An autopsy reveals the fatal shot hit Ramirez in the chest and punctured his lung, while a toxicology report indicates he had a dose of methamphetamine in his system when he died.
Police officers did not find any guns in the car, just a syringe.
"I knew in that moment, which later was determined to be untrue, but I knew in that moment that he was reaching for a gun," Morrison told the inquest.
"I couldn't take that risk ... I wanted to see my son grow up."
A jury at the inquest ruled last Wednesday that the shooting was a non-criminal, justifiable homicide.
Ramirez family members said they were disappointed by the ruling and intended to file a lawsuit against Morrison and the Billings Police Department, alleging excessive use of force, his sister Julie Ramirez said.
Of the 15 people called to testify during the two-day Billings inquest, 12 were from law enforcement.
The verdict clearing Morrison of any charges comes as police killings of unarmed suspects in Ferguson, Missouri and New York City draw international attention and increased scrutiny of police.
- with AP
Take a look at the video, it is extremely hard to find any reason to justify this shooting. He claimed he was reaching for a gun.
Did he see a gun? No, because there was not a gun there.
Did he have reason to shoot? No, because he did not actually see a gun.
He panicked and "thought" he had a gun.
While its not murder, it is at least criminal negligence causing death.
But expect this officer and many more to do exactly the same thing again and again and get away with it.
In Ottawa, Rotten Cops like Detective Peter Van Der Zander get caught fabricating evidence and obstructing justice.
He also engages in what can only be called Domestic Terrorism.
You see this vile example of humanity terrorizes the victims of crime because of their gender.

Ottawa Mens Centre