Dead newborn found among recycled trash in Roseville
By Christina Hall, Detroit Free Press 5:28 p.m. EST January 15, 2015
The body of a newborn boy was found among waste by workers at the Great Lake Recycling center in Roseville, police say.
A newborn baby was found dead Wednesday night, its bundled body found among items being sorted at a recycling center in Roseville, police said today.
Now, detectives are investigating a possible connection between the baby and an Okemos woman who is accused of killing her newborn daughter in 2013 and who told an Ingham County judge this week that she "could not recall" where her missing baby boy, born last month, is.
Roseville Police Chief James Berlin said detectives are tracking down leads to determine the identity of the baby, who was full-term, nude and bundled in a cloth, when workers at the recycling center on Groesbeck made the horrific discovery.
The baby, a white male estimated to be one to three days old at the time he died, was discovered among recycled waste.
Berlin said investigators were looking at DNA samples and hope to have the results by Friday.
Initially, police said the center was Great Lakes Recycling. Great Lakes Recycling owns the property but leases it to ReCommunity Recycling, said Sue Cushing, human resources manager for Great Lakes Recycling. A voice mail message was left at the telephone number for ReCommunity Recycling.
While Great Lakes Recycling workers didn't make the upsetting find, Cushing said she "can't imagine what the workers are going through."
A woman in the office at the Roseville ReCommunity Recycling location indicated that workers could not comment.
Will Herzog, ReCommunity Recycling's director of marketing, issued a statement this afternoon.
"We are saddened by the events that happened at our Roseville, Mich., facility, and we are cooperating with the authorities as they conduct their investigation."
Workers were sorting different forms of recyclables when a bundle came down the sort line about 11 p.m. Wednesday, police said. They grabbed it, opened it and "to everyone's shock" they found the baby inside, Berlin said.
The baby had no visible signs of trauma. An autopsy may be conducted Friday by the Macomb County Medical Examiner's Office to determine the baby's cause of death.
Berlin said the Dumpster was outside before the items were sorted inside the facility. The temperature just before 11 p.m. Wednesday was 14 degrees, according to the closest reading at Detroit City Airport, according to the National Weather Service website.
Berlin said there was evidence, which he declined to disclose, to help investigators. He said detectives were searching materials before and after the baby was found, looking for evidence.
Earlier this morning, Berlin said it was unknown where the Dumpster came from, saying it could have been anywhere in southern Michigan or Ohio.
He said the Dumpsters are to be used for recyclables, but other things are sometimes placed in them, but nothing "this heinous."
Berlin said someone who is not interested in keeping a baby has many options, including anonymously turning the baby in at a police or fire station, church or other location.
"You can do anything beyond throwing (the baby) into a Dumpster," he said.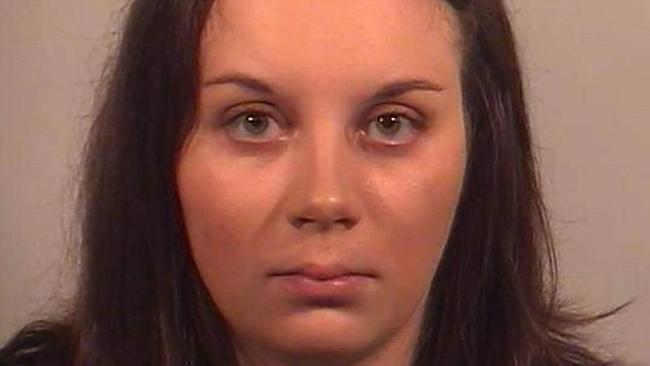 \
The case Roseville police are checking into for a possible link involves Melissa Mitin, 25,who was charged last year with murder, accused of killing her newborn daughter by putting the infant face down in a wastebasket. Apparently, three months after prosecutors said she killed her daughter, she was pregnant again - a pregnancy that she concealed.
It was revealed at a hearing Wednesday in Ingham County Circuit Court that she had been hiding that second pregnancy. She gave birth last month to a baby boy who is now missing.
Mitin earlier this week told a family court judge that she "could not recall" where the baby boy is, Ingham County Assistant Prosecutor Debra Rousseau said.
Meridian Township Police Lt. Greg Frenger said Michigan State Police are helping to determine if there is a connection between the baby and Mitin's missing baby boy.
"State police are committed to making a determination as quickly as possible," Frenger said.
Circuit Judge Jim Jamo revoked Mitin's bond, and she is being held at the Ingham County Jail.
Jamo granted a request by Mitin's attorney, Frank Reynolds, to send her for competency tests at the state's Center for Forensic Psychiatry. Those tests are to determine if she is competent to stand trial and if she can be held criminally responsible in the December 2013 death.
Anyone with information about the Roseville case is asked to call police at 586-447-4483. Anyone with information or who may have seen Mitin between mid-December and early January is urged to call Meridian Township police at 853-4800.
A woman in the office at the Roseville ReCommunity Recycling location indicated that workers could not comment.
A voicemail message was left for ReCommunity Recycling's director of marketing and and email also was sent to the company.
Contact Christina Hall: chall99@freepress.com. Follow her on Twitter: @challreporter.
The Lansing State Journal contributed to this report.
Michigan's Safe Delivery of Newborns Law
The law allows parents to safely, legally and anonymously surrender their newborn no more than 72 hours old to an employee who is inside and on duty at any hospital, fire department or police station or by calling 911. The Safe Delivery Hotline is 866-733-7733.
Source: Michigan Department of Human Services