Former fugitive Douglas Gary Freeman back in Canada after years of legal turmoil
After years of legal turmoil, Douglas Gary Freeman is finally back in the arms of his family in Mississauga.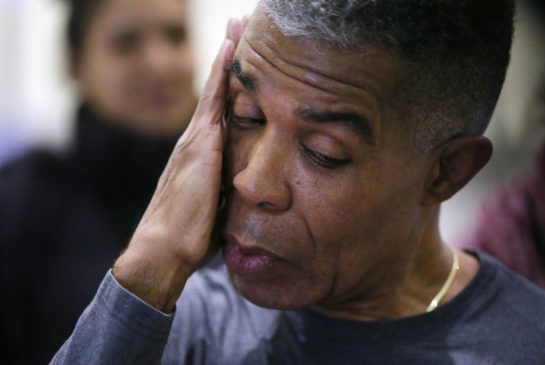 Douglas Gary Freeman is moved to tears after being reunited with his family as he arrives at Pearson International Airport on Wednesday night.
After years of legal turmoil, Douglas Gary Freeman is finally back in the arms of his family in Mississauga.
Freeman returned home from the United States Wednesday night, more than a year after a judge ruled he was wrongly labeled a terrorist and unfairly linked to the now-defunct Black Panther Party.
His homecoming marks another chapter in a 45-year saga that began when he was a teenager. Now a grandfather, his ordeal includes living decades as a fugitive, almost four years behind bars in Toronto's Don Jail as he fought extradition to the U.S., and nearly seven years of fighting to return to Canada.
The former Toronto librarian's assistant arrived at Pearson International Airport, hours after he received word that he was granted a temporary resident permit after several unsuccessful attempts.
"Daddy!" shouted one of his daughters when she spotted her dad walking out of arrivals.
Freeman, 65, embraced his adult children as they ran toward him and held them in a tight, quiet hug. He kissed his wife, pulled at his son's beard and stroked his daughter's face.
"This is perhaps the most surreal moment in my life," he told a Star reporter, tears brimming in his eyes, overcome with emotion.
He took deep breaths and then joked about pulling on an extra coat. "I'm in Canada right?"
The family each grabbed a suitcase and prepared to walk off, but Freeman stopped and turned to his wife, Natercia Coelho.
Looking deeply into her eyes, he said, "This is so surreal. I keep waiting for someone to pinch me."
She pinched his cheeks.
"I've never won a lottery," said Coelho. "This must be what it's like. This is our lottery."
"I don't know how to express how I'm feeling right now," Freeman said in a telephone interview from Washington, D.C., earlier Wednesday, hours after he got the news that he would be allowed back into Canada.
Wednesday evening marked the first time Freeman spent in Canada with his family — three daughters and a son — since 2008, when he flew to Chicago to face charges that he wounded an officer in 1968 in what he called an act of self defence.
Freeman had been living
with his elderly mother in Washington
, while attempting to be allowed back into Canada.
"It has been a long time," Freeman said. "I've been waiting for this for a very, very long time. Language is good but it does have its limitations. It fails me right now."
He said he was stunned to receive a one-page letter on Wednesday morning from the Consulate General of Canada which begins: "A temporary resident permit has been approved. You may now travel to Canada."
In October 2013, Federal Court
Justice Anne Mactavish ruled
that Ottawa unfairly labeled Freeman a terrorist and a former member of the now-defunct Black Panther Party.
The judge's ruling came after federal officials argued that they had top-secret evidence that tied him to the Black Panthers.
Freeman had not been allowed to review that evidence himself.
"I have determined that Mr. Freeman was unfairly treated in this process in several respects," Mactavish wrote, dismissing claims he was a security threat.
"No meaningful reasons were provided to explain the rationale for finding Mr. Freeman to be inadmissible to Canada on security grounds," she wrote.
For several years,
Freeman unsuccessfully applied
for a temporary permit so that he could celebrate Christmas with his family here.
Freeman's lawyer Barbara Jackman successfully argued that Ottawa withheld evidence and repeatedly denied requests for disclosure to back up
claims he was a security threat
.
A second barrier to his re-entry to Canada has been his criminal record.
Freeman said he was defending himself in a racially charged incident.
Knox suffered permanent injuries to an arm. He died in 2011 at age 63.
After the shooting, Freeman changed his name from Joseph Pannell and fled to Canada, living first in Montreal and then in the Toronto area.
In his new life here, he married, raised four children and worked at the downtown Toronto Reference Library as a librarian's assistant, avoiding any difficulty with the law.
His story eventually leaked out and he was arrested in 2004 outside the Yonge St. library.
He was
held without bail in the Toronto Don Jail
as he fought extradition. In 2008, he agreed to return to Chicago, where he pleaded guilty to one count of aggravated battery in February 2008.
A judge sentenced him to 30 days in jail and two years' probation, and ordered him to give $250,000 to charity.
When his time was served, he found himself barred from Canada and his wife and family.
In her review of Ottawa's conduct, Mactavish ruled that former immigration minister Jason Kenney made "ill-advised" comments on the case, but also said that she wasn't conviced that Kenney personally involved himself in Freeman's case.
Those comments were a reference to an exchange on May 1, 2012, in the House of Commons between Kenney and Opposition Leader Thomas Mulcair.
Mulcair accused Kenney of showing a "double standard" between the handling of Freeman's case and that of "the British criminal
Conrad Black
," who had received a Temporary Resident Permit.
Kenney wrongly called Freeman "a convicted police murderer" and said Mulcair sought "to welcome convicted cop killers."
Kenney later also incorrectly said Freeman was "convicted of shooting and I believe blinding a police officer, not killing him, so I should have said police shooter, not police killer."
"This statement also appears to have been inaccurate, as the police officer had not been blinded, but had been left partially paralyzed in one arm," Mactavish wrote.
In the fall of 2013, Justice Department lawyer Alexis Singer argued that since Freeman is not a Canadian citizen, he's not entitled to protection under the Charter of Rights.
She also argued that Freeman's family could move to the U.S. or travel there for visits.
At Pearson airport Wednesday night, family members were thrilled at the reunion.
"It feels like a huge birthday present," said Jon-Maceo Freeman, who celebrated his 40th birthday on Tuesday.
"It really hasn't hit me yet," said Freeman's daughter, Leila Freeman.
Leila, 37, said the family's hopes have been raised and dashed so many times over the years that she couldn't believe her dad was finally coming home.
Over the past 10 years, Freeman has missed family weddings, milestone birthdays, his children's university graduations, the birth of his five grandchildren and the funeral for his father-in-law.
"Can't get that back," said his wife sadly.
She talked excitedly about the menial tasks she'll undertake with Freeman in the coming days.
"I almost want a snowstorm so we can go out and shovel together," Coelho said with a laugh. "Just all the little stuff ... I could never get my scrambled eggs like he does."
Commentary by the Ottawa Mens Centre
When it comes to Domestic Terrorists every father in Ontario needs to be warned about a Detective Peter Van Der Zander who personally fabricates evidence to NOT charge the most violent of mothers who attempt to strangle to death the full time fathers of their Children.

Rarely is there ever so much evidence but to justify a string of criminal charges against the vile Child Abusing Evidence Fabricating, Rotten Cop.

He is not alone, In Ontario it's now normal for police to arrest and charge male victims of Domestic violence, even if they happen to police officers from another police force.

OttawaMensCentre