Publication ban lifted on parents convicted of manslaughter in toddler's death
Matinah, 2, died when her parents, Sean and Mariah Hosannah, failed to provide the "necessaries of life," a court ruled in October.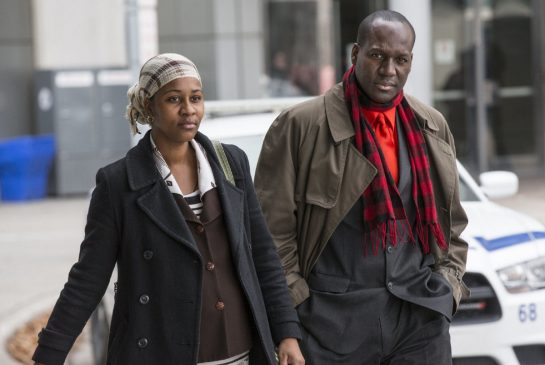 Sean and Maria Hosannah killed their 2-year-old daughter, Matinah.
The couple was convicted of manslaughter by failing to provide the necessaries of life by a jury in Brampton last October, but until now the names of the parents and the toddler who died
could not be published due to a sweeping publication ban
.
Superior Court Justice John Sproat modified the ban on Friday at the request of the Toronto Star, making the names public.
Sproat had initially ordered the ban on Sept. 19 at the request of the Crown, who wanted to protect the identities of Matinah's surviving siblings, highlighting the fact that Hosannah is an uncommon surname. It later reversed its position and consented to the Star's request to narrow the ban. The Star was never seeking to name the surviving siblings.
"The routine granting of publication bans on the identity of adult accused persons and offenders would be a radical change in the law," Sproat wrote in his 15-page decision. "If a publication ban is necessary in this case, it would be necessary in any case in which a heinous crime was committed by a person with children and an uncommon surname."
The Star brought the application because in an open and transparent justice system, the public has a right to know the identities of those accused and convicted of crimes, said Daniel Stern, counsel to the Star.
The judge's decision "shows that the names of convicted accused are important for transparency and accountability," he said.
Indeed, Sproat wrote, "I believe most citizens would be extremely interested in learning the names of adults convicted of criminal offences and particularly homicides."
Jurors at the manslaughter trial were told that Matinah was severely malnourished and never crawled or walked. She stopped breathing on Feb. 25, 2011, and was rushed to Brampton Civic Hospital, where she was pronounced dead.
An autopsy concluded four months later that she died from complications of asthma and malnutrition. The trial heard she had a rare case of rickets blamed on a lack of Vitamin D, which had also caused two broken bones. She had not seen a doctor since March 2010 and had not received any vaccinations.
The Star argued its case at two hearings on Dec. 1 and Jan. 8.
"The Star challenged this ruling because we cannot allow the judicial elite to keep secret the names of people who kill children," said Star editor Michael Cooke. "Justice must be open and must be seen. It is fundamental to our democracy."
Justice for Children and Youth, a non-profit legal clinic, was granted amicus curiae (friend of the court) status by Sproat in December. The group argued against the ban, again highlighting the family's uncommon surname.
"A significant number of people must already know the identities of all concerned," Sproat wrote. "This no doubt includes some family, friends, neighbours, teachers and health care professionals. The death of a sister, particularly given the culpability of the parents, will no doubt cause 'dreadfully painful times' for the surviving siblings. That is the baseline. Nothing a publican ban can do will change that."
The parents usually sat impassive at their trial and during the proceedings dealing with the Star's application. Maria could often be seen taking notes.
In a videotaped interview with Peel police spanning nearly three hours in October 2011 that was shown in court, Maria maintained her innocence.
"As a mom I'm very, very, very, very, very concerned about my daughter, both of my daughters," she told Peel Const. Paul Quashie. "I'm always on point with everything that I do, so I'm not a neglectful mom or whatever they trying to portray us to be."
She said Matinah was born healthy, but believed her daughter was "experimented on" in hospital after her birth. She said Matinah was injected with antibiotics without Sean and Maria's permission, "and they cause a lot of side effects, something that could cause, you know, a child's death."
Matinah Kabirah Hosannah was born on Nov. 26, 2008, at St. Joseph's Hospital in Toronto, and weighed 2.575 kg (5.9 pounds), according to an agreed statement of fact filed in court. She was given antibiotics and fed intravenously because her doctors were concerned she had low blood sugar and a possible infection. She was discharged on Nov. 30.
Maria spoke at length to police about her family's diet. She said she only buys whole foods, and stays away from sugar. Most of the meals she cooks are vegetarian, she said, and typically include oats, brown rice, lentils and navy beans. She said she avoids fish "because of with mercury and stuff like that."
Her family refuses vaccinations for religious reasons, she said, telling police she had converted to Islam from Roman Catholicism.
Maria said Matinah "was speaking, you know, she was jovial, she was happy." She said she wasn't able to grieve the death of her daughter, who she said passed away in "unfortunate circumstances."
"How could you grieve in this, in this kind of situation, you know?" she said. "Somebody see you, and they see you as being a criminal right away. That's what they flashing in their eyes right away, but they don't know in-depth, you know, what's really going on. So you just have to just sit down and just take it."
When asked at the end of the interview if she and her husband had provided the best possible environment for their daughter, including warmth, nutrition, education and love, she replied: "We did the best that we can."
The Hosannahs will be sentenced on Jan. 30. They face up to life in prison.
With files from the Brampton Guardian