Five things about new Liberal Eve Adams
February 9, 2015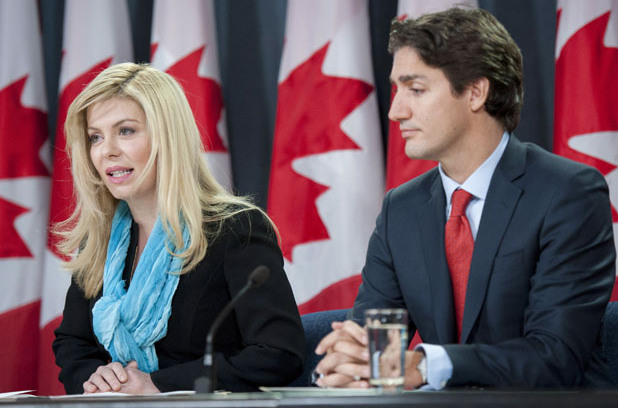 Former Conservative MP Eve Adams (left) is joined by Liberal Leader Justin Trudeau as she announces in Ottawa on Monday, Feb. 9, 2015 that she is leaving the Conservative Party to join the Liberal Party of Canada
OTTAWA – Five things you may not know about Eve Adams, the controversial Conservative who made a bombshell announcement on Monday that she's defecting to the Liberals:
1. Born Eve Horvat, Adams is the daughter of Hungarian immigrants. She became active in the youth wing of the Conservative party as a teenager. She put her post-secondary school studies on hold at one point after her diabetic father had his legs amputated. "The fact that he simply did not take his diabetes seriously is really what we believe terminated his life in the end," she said in 2013.
2. According to Macleans magazine, the Horvats ran a gas station, pumping fuel and washing windshields in Sudbury, Ont. The family business grew to include stations in southern Ontario, where the family ultimately settled.
3. Perhaps a stickler for high gas station standards, Adams was caught on tape throwing a tantrum at an Ottawa Esso station in late 2013. A Conservative supporter contacted the Prime Minister's Office to complain that Adams had deemed a $6 car wash unsatisfactory and used her car to partially block access to the pumps in protest. "I had never experienced anything like this in 40 years of business," station owner John Newcombe recalled. Adams later apologized.
4. In 2011, Adams — then the parliamentary secretary for Veterans Affairs — was spotted shopping in New York City during Remembrance Day week, an excursion that reportedly upset the PMO. There was another kerfuffle in 2013 when it was reported that in 2011, an election year, Adams' campaign claimed more than $2,500 for child care but also included various beauty products and services, including nail salon visits and whitening toothpaste. Many of the claims were later refused.
5. In the months following the 2011 election, Prime Minister Stephen Harper thought highly enough of Adams to have the newly elected MP escort Prince William and his wife, Kate, around the National War Memorial during their summer visit to Canada.
Follow Lee-Anne Goodman on Twitter @leeanne25
Commentary by the Ottawa Mens Centre
Justin Trudeau has just made one of the worst decisions of his political
career and it is one that is guaranteed to haunt him permanently.

Justin fell for a Blue eyed, natural blond with red glossy lips who oozes sex
appeal and is for the present, the hottest bit of political eye candy in
Ontario.

Justin has allowed any commonsense in his brain to be overcome with what
looks like one hell of an publicity asset that is going to be pulling in male
votes like bees after honey.

These two creatures have a lot in common besides their attractiveness to the
opposite gender. They flip flop, make bad decisions that in Eve's case, she has
a long history of ethical problems that got her fired from the Conservatives not to mention mood swings and a temper that's hotter than her looks.



Harper and Justine are now both suckers for the same woman and now doubt Mrs. Trudeau will be repeating Mrs. Harper's warning to Mr. Harper and Justin like Steve refused to listen, until it was too late.

Justin Trudeau has literally taken a bite of an apple that he knew or ought to have
known was forbidden fruit.

We can expect more delinquency by this photogenic couple of Justin and Eve. No doubt Mrs. Trudeau will be keeping her eye on this blond bombshell who has quite a record of picking apparent winners and losers.


Ottawa Mens Centre