Woman gets prison for kidnapping daughter and fleeing overseas
Tuesday, February 10, 201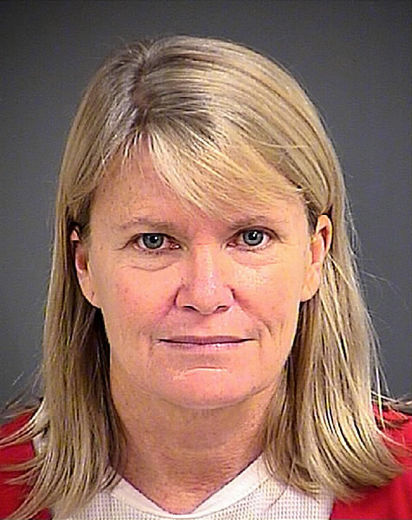 Dorothy Lee Barnett is pictured in this undated booking photo provided by the Charleston County Sheriff's Office. (REUTERS/Charleston County Sheriff's Office/Handout via Reuters)
CHARLESTON, S.C. – A woman accused of kidnapping her infant daughter from South Carolina in 1994 and living overseas with her for nearly two decades was sentenced to 21 months in a U.S. prison on Tuesday.
Dorothy Lee Barnett, 54, who was arrested in 2013 in Australia and extradited in September to Charleston, South Carolina, pleaded guilty to federal charges of international parental kidnapping and falsifying passports.
Prosecutors have said Barnett vanished with her baby girl during a court-approved visit in South Carolina after her ex-husband, Benjamin Harris Todd, was granted legal custody of their child in a contentious divorce.
Barnett moved overseas, remarried and changed her name to Maria Geldenhuys, according to court records. She also renamed her daughter from Savanna to Samantha and told her child that Barnett's new husband was the girl's father, prosecutors said.
In tearful testimony on Monday, the daughter, Samantha Geldenhuys, now 21, said she was shocked to learn just a few years ago that she had another identity.
"I've had the opportunity to meet with my biological father for a few hours," she said. "It was an experience that I cannot describe in one word."
The daughter and Barnett's attorney asked U.S. District Court Judge Richard Gergel to give Barnett a sentence that did not include prison time, but the judge said he needed to send a message as a deterrent to others.
"This was a calculating, methodical crime carried out in a very deliberate way," Gergel said.
The judge said he expected Barnett would get credit for the nearly 15 months she already spent in jail in Australia and South Carolina since her arrest.
According to court records, Todd received custody of the couple's daughter after a Charleston family court judge noted Barnett had "psychological and emotional problems."
Using an alias, Barnett obtained a driver's license in Texas and then a U.S. passport in order to leave the country, court documents showed.
U.S. investigators found the mother and daughter living in Australia in 2012. Barnett told investigators that she had traveled to Malaysia, South Africa, Botswana, New Zealand and Australia after leaving South Carolina.
Todd's attorney, J. Graham Sturgis, said both the father, who did not attend the hearing, and daughter are victims in the case.
"(Todd) suffered the immeasurable loss of his child," Sturgis said, adding that she "can never realize the love from her father during childhood or the experiences and opportunities deprived her by her mother's selfishness.
Commentary by the Ottawa Mens Centre
The Ontario Government operates Male Sharia Law that results in 99% of children being placed with mothers, many never see their fathers again, the mothers brainwash the children that their father is a criminal and a child abuser who a Judge determined could or should never ever have contact because of the risk they pose etc.
This Mass Criminal Obstruction of Justice and child Abuse is perpetrated by the Judiciary of the Ontario Superior Court of Justice where Dead Beat Judges where increasingly they come from the Children's Aid Society.
These are the creeps responsible for the mass alienation of children from their fathers.
The Dis-Honourable Justice Timothy Minnema used to work for the CAS Kingston, and now as a judge personally fabricates evidence against male victims of domestic violence using exactly the same evidence that police use to charge women with the most serious charges of violence and threats.
Its the Insults to Justice Like Timothy Minnema who bring the administration of Justice into ill repute and who have total immunity from criminal prosecution.
You can expect to read of his sudden "Retirement" which is the only route a judge has to escape a finding from the Judicial Council, which is paid to white wash or stonewall any investigation into what is politely called "judicial misconduct".
OMC