Four veteran Toronto police officers arrested and charged with perjury and obstruction of justice
Cameron Axford, National Post Staff | January 28, 2016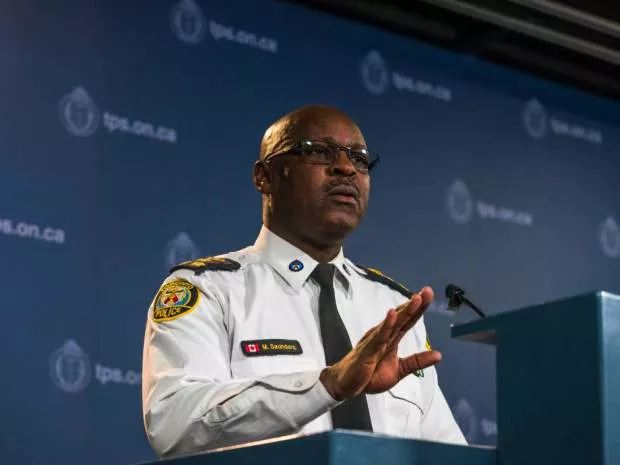 Chief Mark Saunders speaks at a press conference in January, responding to the arrest of four Toronto police officers.
Correction: Two of the Toronto police officers charged with perjury and obstruction of justice were identified as working in the Major Crime Task Force. This is incorrect; none of the officers are associated with the Major Crime Task Force. Rather, they worked in the Major Crime Units of their respective divisions.
The arrest of four Toronto police officers for obstruction of justice and perjury — after a judge ruled they planted heroin on the console of a suspect's car to justify a warrantless search — throws into jeopardy past convictions in cases on which the investigators have worked.
A team of investigators has also been assembled to re-examine other cases the veteran officers have worked on. The four officers under arrest are all veterans of the force, with 51 years of experience among them. Two of the officers work in their divisions' Major Crime Units.
Toronto police Chief Mark Saunders said Thursday four of his officers were arrested and face 17 charges of obstruction of justice and perjury.
The charges against the four officers come after a 2014 traffic stop in which police found heroin in Nguyen Son Tran's car. A judge ruled in September the officers planted heroin on the centre console of Tran's Toyota Camry to justify stopping and searching the car.
The drugs seized in the search were not allowed as evidence in the case and charges against Tran were stayed.
The search incident occurred in the city's eastend Chinatown, around Broadview Avenue and Gerrard Street in January 2014. Police said at the time that they saw Tran run a red light. An officer stopped him in a parking lot, where the suspect, an officer told the court, was trying to hide a white powder that had spilled on the car console.
Officers testified that one investigator heard the traffic officer say the licence plate of the stopped car over the radio and it was recognized as belonging to Tran, who had previously been arrested for possessing heroin in the same car.
Tran previously pleaded guilty to possession of heroin in that first incident. This time, a police search — justified by the purported dusting of powder — again found heroin behind the steering wheel. More than 11 grams were seized.
But Tran told court he was set up. He claimed a plain-clothed officer who had previously arrested him was following him and that he did not run the light. The undercover police were there minutes later and the defendant was arrested.