'She would stalk me': Ottawa teacher's aide pleads guilty to sexually assaulting male student for years
Gary Dimmock, Postmedia News | March 4, 2016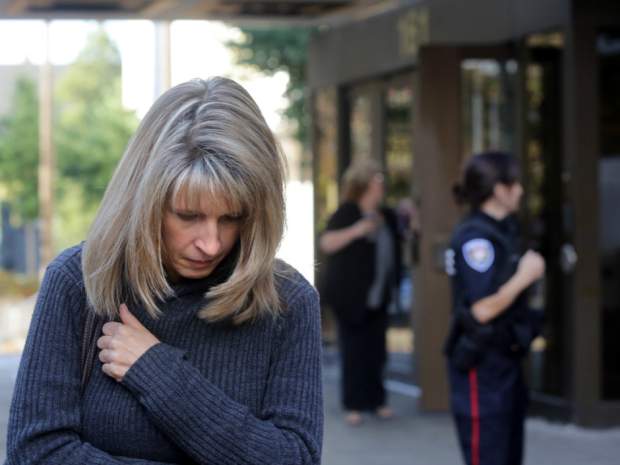 Katherine (Kathy) Kitts leaves the Elgin St. courthouse after being released on bail in Ottawa on Tuesday, October 7, 2014.
The high school student had always struggled in class so when he met teacher's aide Kathy Kitts, he was grateful. She would, he felt, guide him through graduation day.
She helped him with his homework, and he trusted her. But a year later, when he turned 15, he said things started to change.
"She wanted to see me at lunch and on spares, see me alone and away from others. I was too young and too trusting to realize what was going to happen," the student wrote in a victim-impact statement filed in Ottawa court on Thursday after Kitts, who turns 46 on Friday, pleaded guilty to sexually exploiting the boy for two years.
I sealed them deep inside my heart and brain and waited for high school to be over.
The teacher's assistant sexually assaulted the boy daily in school or on lunch break, sometimes in the backseat of her van or at a nearby park, court heard.
Ottawa teacher's aide Kathy Kitts leaves the courthouse in Ottawa Thursday March 3, 2016.
"I had no choice but to agree. If I said no, she wouldn't help me with homework and I would fail," he wrote in his statement.
Scared and angry, he said in his statement that he slowly started to lose "all my feelings."
"I sealed them deep inside my heart and brain and waited for high school to be over."
And he said he had never felt so alone.
"I lost connections, lots of friends and my family because I never wanted to hang out or get too close because they might figure out my secret," the now young man said.
Kitts had told the boy to keep the relationship secret and said if he told anyone her life would be ruined and she could go to jail, according to an agreed statement of facts.
By Grade 11, the boy said it was hard to keep "Mrs. Kitts" away. "She would stalk me all the time."
He said the teacher's aide destroyed his innocence. "All I am now is empty. I worry I I won't love someone."
The sex crimes were exposed in 2014 when the boy's mother read some sexually graphic texts on his phone. In all, there were some 15,000 texts between the teacher and student, who was sexually exploited for two years.
His mother confronted Kitts and later called the Ottawa police. Kitts was charged with a series of sex crimes in October 2014 and granted bail. The teacher's aide pleaded guilty on Thursday to one count of sexual exploitation by someone in a position of trust and will be sentenced in August. She will undergo sexual-behaviour and psychiatric assessments before sentencing.
Commentary by the Ottawa Mens Centre
What is amazing in this case is that she pled guilty.
There does not appear to be any information of the charges that were dropped or the end result of the
Children's Aid Society of Ottawa which in Ottawa is guaranteed to make eventual positive findings
on behalf of Kathy Kitts.
Ottawa Mens Centre