An accused serial rapist who was being held in solitary and was looking at waiting another year behind bars in Ottawa's notorious jail before standing trial has killed himself.
Yousef Mohammed Hussein hanged himself with his bedsheets in a solitary confinement cell in a maximum security section of the jail known as one wing. Hussein was alone in his cell at the time. He was found a little after 3 a.m. and taken to hospital, where he was later pronounced dead.
Postmedia has learned there were no nurses on duty at the time; correctional officers were performing CPR on Hussein when paramedics arrived at the jail.
The 27-year-old was accused of choking and sexually assaulting five women and an attempted attack on a sixth in a series of sexual assaults that dated back to 2012. Some of the attacks occurred in the victim's homes.
Hussein was arrested in May 2014 following a seven-month police investigation. He's been held in custody ever since.
Hussein was turned into police by a neighbour in his apartment building who thought the man resembled sketches and video police released of suspects in different assaults. Police released two composite sketches in connection with three assaults linked by DNA and video surveillance footage from an apartment building on Draper Avenue.
Hussein was charged after he voluntarily provided police with a DNA sample that they matched to the ones collected from the crime scenes.
Hussein wasn't on a suicide watch at the jail, but according to policy was supposed to be checked on every 20 minutes. While in solitary, Hussein would spend 23 hours a day in the cell. It's not known why he was being held in solitary or exactly how long he had been there.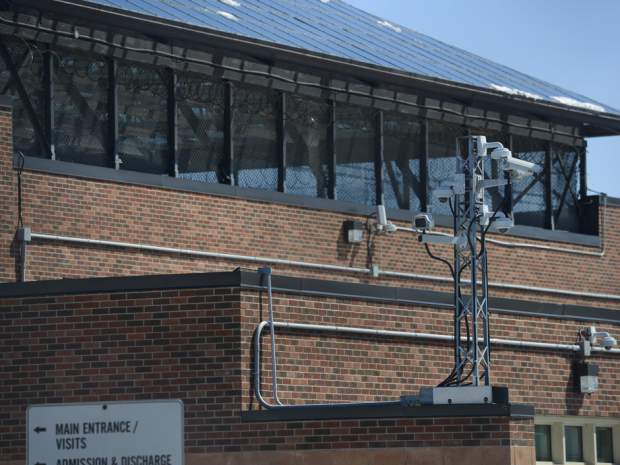 He had no known diagnosed mental health issues, according to his lawyer, Michael Johnston.
However, his case had been dragging through the courts, and he wasn't scheduled to stand trial until May 2017 – a full three years after he was first arrested and charged. He had been committed to stand trial on allegations related to five of the six women.
"This whole fight for him has been pretty prolonged and delayed," said Johnston. "He was quite frustrated with the amount of time it was taking for his case to get to trial.
"Mr. Hussein had a reason and a right to be frustrated; the constitution guarantees that people should be tried within a reasonable time. Three years for someone who is in custody is unbearable," said Johnston.
Johnston said he had been planning on asking a judge to stay the charges against Hussein as a result of the delays. The Charter of Rights and Freedoms guarantees an accused the right to be tried within a reasonable amount of time.
Johnston said he didn't know exactly how long Hussein had been held in solitary confinement.
Hussein had been fighting with prosecutors shortly after his arrest for the release of disclosure, or the evidence that police had collected against him. Johnston ended up requesting a special hearing after complaining that his defence was being stymied because he couldn't get access to key evidence in a timely manner.
Hussein hadn't sought his release on bail – he's currently the subject of a deportation order as he was not legally permitted to be in Canada at the time of the alleged offences.
Hussein's family was convinced that police had the wrong man, and that DNA they alleged linked him to the crimes may have been inadvertently left there as a result of his job as a mover. However, two of the three assaults that police first linked by DNA occurred outside.
Hussein was a Jordanian national who was in Canada on an expired student visa. He had married a woman he had met in college about a year before his arrest, according to his family. Hussein had been operating a small-scale moving company.
Ottawa police Const. Chuck Benoit said Tuesday there was no evidence of foul play in the death.
"It's a mental health," said Benoit of the nature of the call.
A spokesman for the Ministry of Community Safety and Correctional Services would only confirm that an inmate died, and would not provide any further details due to a number of ongoing investigations.
The coroner's office is now handling the investigation into Hussein's death. A coroner's inquest is mandatory in cases where an inmate dies while in custody and the death is not from natural causes.
The inmate's suicide comes just two days after a Postmedia report about another inmate who is no longer fit to stand trial after spending 18 months in solitary confinement at the notorious jail.
That inmate, Mutiur Rehman, is now under the care of a psychiatrist in a secure unit at The Royal Mental Health Care Centre and is under the authority of the Ontario Review Board.
Rehman was awaiting trial at the Ottawa-Carleton Detention Centre after being charged with first-degree murder in the stabbing death of André Boisclair in October 2013.
Rehman was kept in isolation for up to 23 hours a day without any social interaction beyond a guard bringing him meals and the odd 20-minute visit from family. He didn't have access to newspapers, television or radio.
A psychiatrist found that Rehman's time in solitary confinement was linked to his deteriorating mental health. Rehman appeared to be hallucinating during interviews. Rehman also reported a history of hearing voices.
It's the second death at the jail in the past three weeks.
Ronald Marion, 59, died March 29 in the jail's health care unit.
Marion suffered from a number of health issues, including diabetes.
The coroner is investigating his death as well.
Marion's family is demanding answers about why he died and his uncle said he would like to see a coroner's inquest called.
The jail has been heavily criticized in recent weeks for overcrowding so severe that inmates were being stuffed into shower cells.
The jail's superintendent was dismissed from her job after Postmedia revealed the practice continued just days after Ministry of Community Safety and Correctional Services Yasir Naqvi ordered an immediate and permanent end to it.