Canadian troops issued wallet cards to remind them that sex assault is 'inappropriate'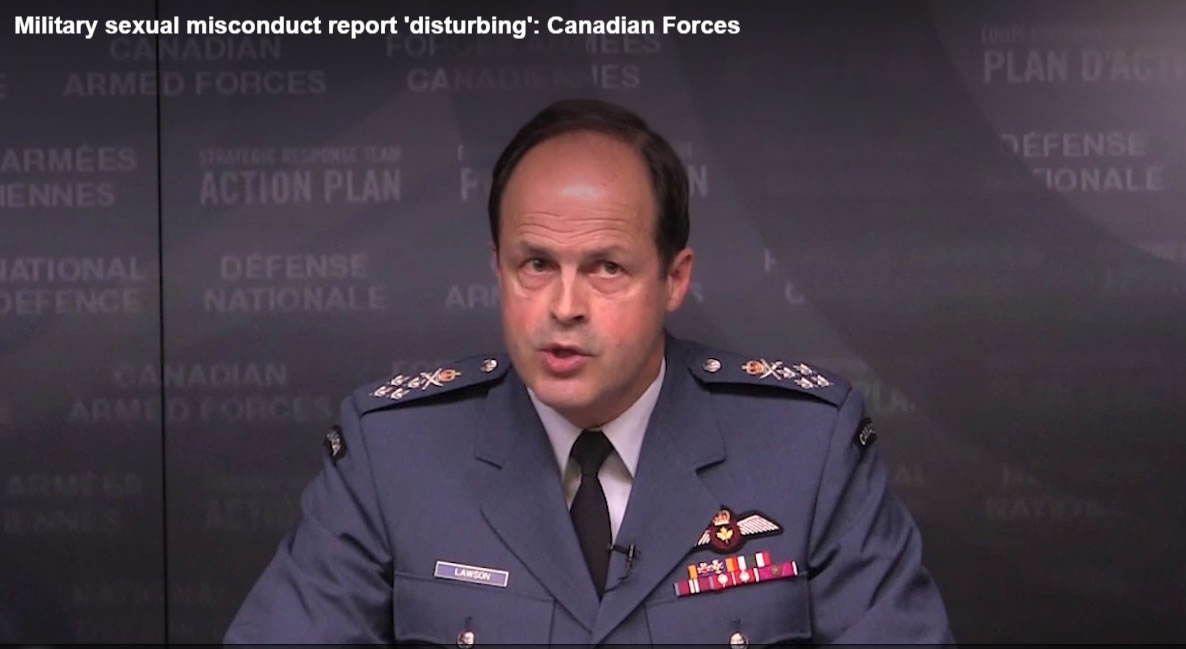 DAVID PUGLIESE, OTTAWA CITIZEN 06.16.2016
OTTAWA — The Canadian Forces has distributed 120,000 wallet-size cards to military personnel to remind them that sexual assault is an "inappropriate" behaviour.
The cards are to be carried by military staff on the job, including when they are sent overseas.
But a critic of how the Canadian Forces has been handling its response to what has been labelled a sexual misconduct crisis says such reminder cards are absurd.
"It is disgusting to label sexual assault as simply something that is inappropriate — it is a criminal act and if you don't understand that then you have real problems," said Ottawa lawyer Michel Drapeau, who represents a number of the military personnel who were sexually assaulted or harassed. "These cards do nothing except to show how the Canadian Forces' leadership still are not taking this crisis seriously."
The distribution of the cards, which has taken months, finished in April, said military spokesman Capt. Jean-François Lambert.
The cards, part of the military's Op Honour initiative, list "inappropriate behaviours."
These include sexual assault, sexual interference, sexual exploitation, offensive sexual remarks or unacceptable language or jokes, unwelcome requests of a sexual nature or verbal abuse of a sexual nature, voyeurism, indecent acts and publishing intimate images of a person without their consent.
The cards call on military personnel to "do no harm." They also have contact information for a sexual misconduct line, military police and other related services.
About 85,000 cards were distributed to English-speaking military personnel and 35,000 to French-speaking personnel.
Another 800 were sent to English-speaking Department of National Defence civilian staff and 500 for French. As many as 50,000 posters with the same theme were also distributed, said Lambert.
The cards issued to civilian staff are similar. But the civilian cards do not include sexual interference or sexual exploitation in the list of "inappropriate behaviour." It is unclear why.
The military launched Op Honour in response to a scathing report on sexual misconduct in the Canadian Forces, prepared last year by former Supreme Court justice Marie Deschamps.
She found that a "hostile sexualized environment" existed in the military. That included everything from swearing and sexual innuendo to "dubious relationships" between low-ranking women and high-ranking men. It also included rape.
"At the most extreme, these reports of sexual violence highlighted the use of sex to enforce power relationships," noted Deschamps, "and to punish and ostracize a member of a unit."
The Op Honour initiative has included town hall meetings, improved training, the establishment of a sexual misconduct response centre and a promise by Chief of the Defence Staff Gen. Jon Vance of zero tolerance on such misconduct.
The cards were previously available on an internal website in conjunction with the launch of Op Honour but have now been distributed in hard copy form, Lambert noted.
But Drapeau said the cards are not only a worthless public relations gesture but are insulting to the majority of military personnel who act properly. "Eighty per cent of victims are still reluctant to come forward because they don't trust military police or the chain of command," he said. "That is the real issue and that isn't being dealt with."
Many in the military have questioned whether the misconduct outlined in Deschamps' investigation is as bad as reported. Others have joked about Op Honour, dubbing it "Hop on Her," a play on words suggesting sexual aggression or even assault.
• Email: dpugliese@postmedia.com
Commentary by the Ottawa Mens Centre
More politically correct moves that are directed at males even though the article does not
suggest that cards are not given to both sexes.
The problem is that firstly society pretends that it ignores the problem of male upon female sexual violence when in fact,
the police lay charges on a she said and convictions occur in 50% of cases when the charges go to trial with
total blindness to the motives the complainant may have for making false allegations. This fills our jails.
The other problem is that society has no idea of the incredible level of violence by women towards men including
sexual violence that encourages women to rape men, and obtain tens of thousands of dollars in "reward" money
for gaining a conviction. The motives of complainants are rarely examined, judges refuse to allow production of disclosure
that in many cases, the crown and police know would exonerate the accused.
Ottawa Mens Centre