Prosecutors appeal 6.5-year sentence for Gardens sex abuser Stuckless
Gordon Stuckless pleaded guilty two years ago to 100 charges related to sexual abuse of 18 victims.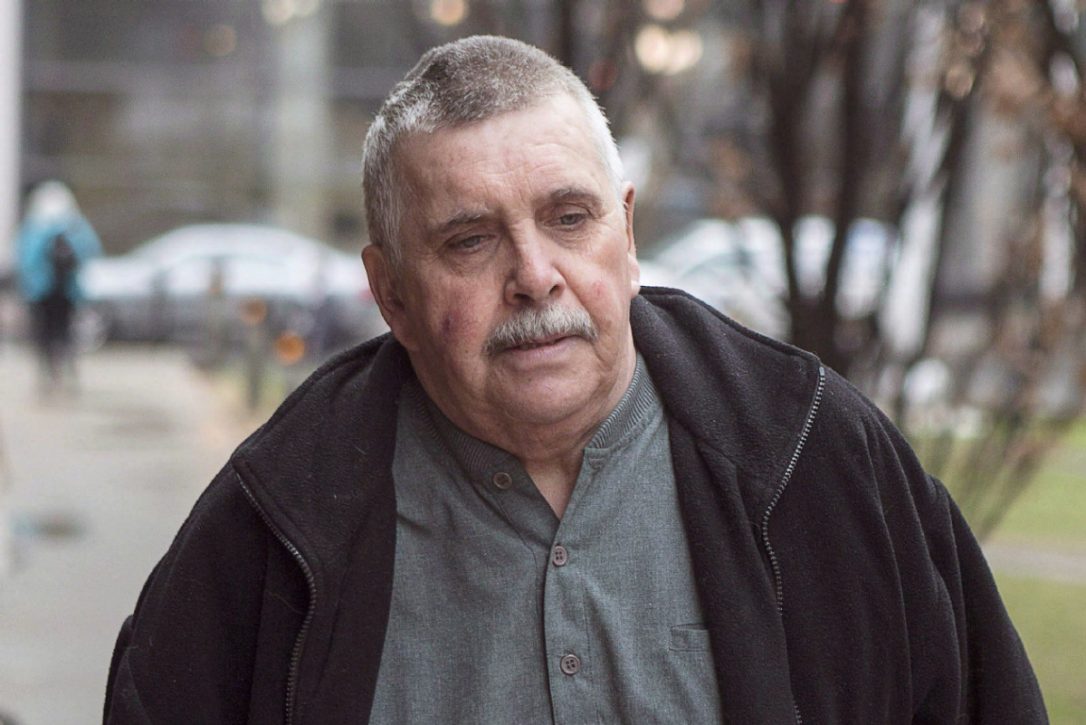 Gordon Stuckless was sentenced to 6-and-a-half years behind bars for the sexual abuse of 18 boys decades ago. The Crown is appealing the sentence. (CHRIS YOUNG / THE CANADIAN PRESS FILE PHOTO)
Wed., July 6, 2016
Paola Loriggio The Canadian Press
Prosecutors are seeking a "substantially longer" sentence for the man at the heart of the Maple Leaf Gardens sex abuse scandal, saying the penalty he received does not reflect the severity of his crimes.
The Crown has filed a notice of appeal in the case of Gordon Stuckless, who was sentenced last month to 6 ½ years in prison for sexually abusing 18 boys decades ago.
Stuckless, 67, was given credit of six months for time served under house arrest, which means he will spend six years behind bars.
The ruling angered many of his victims, who said they have suffered much longer as a result of his actions.
In the notice filed with the Ontario Court of Appeal, the Ministry of the Attorney General argues Justice Mara Greene "erred by misidentifying the appropriate range of sentence in cases involving the prolonged sexual abuse of multiple victims."
The sentence, the document alleges, is "disproportionate to the gravity of the offence and the degree of responsibility of the offender," and "clearly unreasonable and demonstrably unfit in the circumstances of this case."
The notice also says Greene "over-emphasized the mitigating factors in the case and gave insufficient weight to the many aggravating factors."
Stuckless pleaded guilty two years ago to 100 charges related to the sexual abuse of the 18 victims, now in their 40s and 50s.
He was also convicted of two additional charges of gross indecency linked to two of the victims.
The Crown had called for a 12-year sentence, saying Stuckless preyed on young boys for decades and has not shown genuine remorse for his actions.
Stuckless's lawyer had pushed for a five-year sentence, with two years of credit for time spent on house arrest and steps taken to prevent recidivism — namely the fact that Stuckless has voluntarily undergone chemical castration for more than a decade.
In handing down the sentence, Greene said Stuckless abused his position as a teacher and hockey coach to groom his victims but found he has since taken responsibility for his actions and worked to keep himself from reoffending.
Greene said she considered the "general range" of sentences for this type of offence in determining Stuckless's fate, and had to take into account the outcome of his earlier conviction on a similar case.
Stuckless previously pleaded guilty in 1997 for sex assaults on 24 boys while he worked as an equipment manager at Toronto's Maple Leaf Gardens between 1969 and 1988.
He was sentenced to two years less a day in that case, but that was increased to six years on appeal, less a year for time served. He was paroled in 2001 after serving two-thirds of his sentence.
The case currently being challenged deals with abuse that took place between 1965 and 1985. Greene said at sentencing that it involves several aggravating factors — including threats of violence and four incidents of digital penetration — that were not present in the first case, and as such, "something slightly higher is required."
The Crown has the right to appeal a sentence but such appeals are "very limited because appeal courts will not usually interfere with the trial judge's decision on sentencing," the Ontario Ministry of the Attorney General says on its website.
"When asked to review the sentence, the appeal court will consider whether or not the sentence is fair. The appeal court will look at the nature of the crime, the impact of the crime on the victim, the background of the offender and the sentences imposed in similar cases."
Stuckless's lawyer, Ari Goldkind, said he has not seen the notice of appeal or discussed it with his client and therefore cannot comment.
Commentary by the Ottawa Mens Centre
The odds of any member of the public not wanting Stuckless to be indefinitely incarcerated is entirely remote. He is hated and despised, as are almost every other person convicted of a criminal offence. There appears to be a valid argument that he is a dangerous offender who should be locked up indefinitely and that is perhaps how the cops and crown perhaps could have and should have applied to Stuckless.
Individuals like Stuckless encourage a lynch mob mentality, encourage the abandonment of law and order for "justice". They encourage cops and prosecutors to engage in tactics that will put him in jail repeatedly indefinitely until he is dead. An act that again, virtually no one will object to, but its very obviously wrong in law and is a classic example of how corrupt cops and prosecutors will be motivated to become criminals.
It's called "reaction formation" and its where police and Crown's fabricate justifications for illegal actions to do indirectly what is prohibited directly. In sum its called obstruction of justice.
As much as everyone wishes to condone this particular obstruction of justice, they need to bear in mind that next time, it could be and often is, a person who is entirely innocent of any crime who ends up being convicted because we have crowns and police who turn into criminals because they know they are unaccountable.
In this case, the police sat on the extra charges, they waited until he was finished his sentence and then hit him with more charges that if he had been charged with previously at the same time, may well have resulted in the sentences being less consecutive and more concurrent.
The police and the crown can claim that they did not have the evidence then, however, "gating" is a practice employed habitually by the police and crowns in Ontario and its a classic example of how cops and crowns believe, quite rightly, that in reality, they are above the law.