ONTARIO POLITICS
Investigation reveals likely guests for Ontario Liberal cash-for-access fundraisers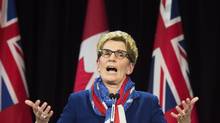 Read more: A list of the likely guests at Ontario Liberal fundraisers with ticket prices of $1,000 or more
On the evening of March 2, 2015, Premier Kathleen Wynne gathered with eight guests who paid $10,000 each for exclusive face-time. Three months earlier, 22 donors spent $5,000 apiece to be entertained by Finance Minister Charles Sousa. Days later, eight people shelled out $5,000 each to attend a reception with then-energy minister Bob Chiarelli.
These were just three of more than 150 intimate cash-for-access fundraisers the Ontario Liberal Party held in Ms. Wynne's first three years in power. At the events, contributors paid thousands of dollars each to bend the ears of the Premier and members of her cabinet privately, typically over cocktails and dinner at five-star hotels or high-end restaurants.
The Liberals have refused to disclose who bought tickets to the fundraisers, which are not prohibited under Ontario's campaign finance rules.
A Globe and Mail investigation has assembled likely guest lists for most of the fundraisers by matching ticket prices of events with separate donor lists filed with Elections Ontario.
The analysis reveals that attendees included construction firms with lucrative government infrastructure contracts, electricity companies with an interest in seeing the government continue outsourcing much of the province's power generation, pharmaceutical corporations that depend on the province to list their drugs for coverage and the banks that made nearly $60-million off the privatization of Hydro One.
There is a pattern of industry-specific events, in which corporate elites, union leaders and lobbyists in a given sector were invited to pay for time with the Premier or the minister involved in their file.
Cash-for-access has become the Liberals' primary fundraising tool. From Ms. Wynne's February, 2013, swearing-in to the end of 2015, the party held 223 fundraisers, of which 159 were private affairs for 50 or fewer guests. After event costs, the Liberals collected $19.6-million for party coffers.
The party is not required to document who attended the events, so determining the guest lists is a complicated process of cross-referencing public filings. A list of fundraisers is disclosed once a year in a spreadsheet at the back of the party's annual financial statement at Elections Ontario's headquarters in a Scarborough industrial park. The Globe compared the dates and ticket prices of these events with separate records of donations to determine who was likely to have attended.
Neither the Premier's office nor the Ontario Liberal Party would answer specific questions about the events. Ms. Wynne's spokeswoman, Jennifer Beaudry, denied that corporate and union leaders who bought access have swayed government decisions.
"We have been clear that donations do not influence policy decisions; any suggestion otherwise is completely false," she said. "The Premier has always been clear that decisions are always made with the best interests of Ontarians in mind."
After The Globe reported on the fundraisers in March, Ms. Wynne promised campaign finance reform to ban corporate and union donations and tighten the cap on individual donations. Pending the new rules, the Premier also vowed to post events ahead of time on the Liberals' website.
But the legislation, unveiled last month, will allow cash-for-access to continue. It has no conflict-of-interest provisions to ban ministers from fundraising among stakeholders, nor does it require politicians to disclose when they are lobbied.
Most of the companies that gave donations matching the ticket price of the events did not respond to requests for comment. Privately, several lobbyists and officials at companies that do business with government said the events are exactly how they look: a chance for vested interests to push their agendas with powerful politicians privately in exchange for large sums of cash.
People who attended some of the events, speaking on condition of anonymity, said many corporations pay the money because they want direct access to politicians who might not otherwise give them the time of day. Once a few companies in a given industry start attending fundraisers, all others that hear about it feel the need to follow suit, so as not to lose a competitive advantage, the sources said.
"No one would have dropped that type of money unless they thought or knew it would help them gain access and be listened to," confided one insider at a major corporation that does business with government. "A two-hour dinner with the Premier or minister is pretty watertight when it comes to an opportunity to have your voice heard. No average Ontarian gets that opportunity."
Among The Globe's findings:
Development and construction companies – and their unions – show donations that correspond with about 30 events between 2013 and 2015. The fundraisers ranged from evening cocktails in winter to garden parties in summer, and included at least three $10,000-a-ticket evenings with Ms. Wynne. Among the major players with contributions that match the timing and cost of events are Daniels Corp. CEO Mitchell Cohen, Diamond Corp., EllisDon Corp., Metrus Development, ZZen Developments, and more than a dozen locals of the carpenters' union. The DeGasperis family, high-profile members of the development and construction industry, made donations that correspond to three $5,000 tickets to an event on Dec. 4, 2014, with Mr. Sousa. Vaughan developer Solmar made donations through five different subsidiaries that correspond with six tickets to two fundraisers with Transportation Minister Steven Del Duca.
Companies with government infrastructure contracts made donations that match several fundraisers, including a $10,000-per-person event with Ms. Wynne on April 2, 2014. These included ACS Infrastructure, Coco Group, Fengate Capital Management Ltd., Holcim Canada Inc. and Ken Tanenbaum. Between them, they are responsible for billions of dollars' worth of roads, hospitals, transit lines, courthouses and, in the case of Mr. Tanenbaum's company, the OnRoute system of truck stops on provincial highways.
Electricity companies gave money corresponding to at least 17 private fundraisers. In 2014 alone, for instance, Mr. Chiarelli, then energy minister, held five $5,000-a-person events. Donors with matching contributions include Algonquin Power Services, BluEarth Renewables Inc., Capital Power Corp., the Canadian Nuclear Association, Longyuan Canada Renewables Ltd. and International Solar Solutions Inc. Six people affiliated with Potentia Solar Inc., the company installing solar panels on the roofs of Toronto's public schools, paid $9,000 each for an evening event on Nov. 25, 2013.
Six members of the banking syndicate that ran the privatization of Hydro One show donations consistent with a $7,500-a-ticket event on Dec. 7, 2015, hosted by Mr. Sousa and Mr. Chiarelli, the ministers in charge of the sale. These are ScotiaBank, CIBC, Canaccord Genuity, Credit Suisse Securities, Harold Holloway of TD Securities and J. Graham Fell of Raymond James Ltd. The syndicate received $58.6-million in fees from the first two Hydro One share sales, in November, 2015, and April, 2016. The Power Workers' Union and the Society of Energy Professionals, whose members received Hydro One stock in exchange for signing a new labour contract before the privatization, also made contributions that match the fundraiser. The Globe reported on the event in March after obtaining copies of e-mails promoting it at $7,500 per ticket. But the list of fundraisers the Liberals filed with Elections Ontario shows only a $4,000-per-person fundraiser on that day. The Liberals refused to explain the discrepancy.
Insurance companies made donations corresponding to several events, including a 12-person reception on June 9, 2014, with Mr. Sousa for $5,000 apiece and a nine-person event on Oct. 5, 2015, for $3,000. Last year, Mr. Sousa broke a promise to drive down auto insurance rates by 15 per cent over two years.
Pharmaceutical and other health-care companies show contributions consistent with a $10,000-a-ticket fundraiser for nine people on Oct. 26, 2015, a $9,975-per-person evening reception for seven guests on Aug. 24, 2015, and two $5,000-per-person gatherings with then-health minister Deb Matthews in a single week in March, 2014.
Michael Sheehan, a spokesman for Edmonton-based Capital Power, said senior leaders at his firm attend political events as "non-partisan outreach" to government. "Our attendance is aimed at raising awareness of Capital Power's brand, and supporting the democratic process," he said.
Daniel Argiros, Potentia's CEO at the time of the fundraiser in November, 2013, said his company did not expect anything in return for attending the high-priced event. "It was organized and conducted according to the rules of the day," he wrote in an e-mail, adding it was "just an opportunity to exchange views."
John Stewart, director of policy at the Canadian Nuclear Association, said his organization attends fundraisers to "discuss a wide variety of subjects relevant to public policy. Such conversations are informative to all sides – our association included."
ScotiaBank spokesman Rick Roth said the process for choosing the banks to run the Hydro One IPO was handled by an "independent committee" led by Ed Clark, the former Toronto-Dominion Bank CEO who is now an adviser to Ms. Wynne. The process was approved by former federal auditor-general Denis Desautels. "The selection process was transparent, competitive and overseen by an independent third party," he wrote.
TD spokeswoman Alison Ford wrote in an e-mail that Mr. Holloway "attended a political fundraiser, after making a personal contribution."
The Liberals' cash-for-access system has nearly tripled in size during the party's 13 years in power.
In 2004, then premier Dalton McGuinty's first full year in office, the Liberals held a total of 28 fundraisers that collected $2.6-million. By 2012, his final full year, those numbers were up to 47 and $4.9-million.
Under Ms. Wynne's command, fundraising has increased. In 2015 alone, the Liberals held 87 fundraisers, which netted more than $7-million after covering expenses. Sixty-one of those were private events for fewer than 50 guests.
Comparatively, the Progressive Conservatives held 12 fundraisers in 2015 and took in slightly less than $1.5-million. The NDP raised $390,000 from two events.
The growth of cash-for-access has been driven by both party operatives eager to fill the coffers and corporations and lobbyists seeking more contact with officeholders.
Large companies often have regular annual budgets for political contributions, and typically donate to multiple parties based roughly on their size in the legislature. Some have pushed for the smaller gatherings, desiring greater access in exchange for their donations. One source at a company with a political donation budget said the firm got tired of using the money to buy tickets to large, boring events with thousands of people and instead decided to help stage smaller ones.
The fundraising events used politicians' courtesy titles in their branding: The Liberals' 2014 financial statements list event names such as "Evening with Hon. K. Wynne" and "Evening with Hon. Dr. E. Hoskins."
The financial statements do not say where the events took place, but promotional e-mails for some fundraisers, obtained separately by The Globe, listed the Four Seasons Hotel in Toronto's tony Yorkville neighbourhood, the Fairmont Royal York, and the elegant Rosewater restaurant among the venues.
The Liberals have relied on lobbyists themselves to get people in the door.
In e-mails obtained by The Globe, Chris Benedetti, a lobbyist at Sussex Strategy Group who primarily represents energy companies, promoted at least four Liberal fundraisers in the past eight months. Eight companies that list Mr. Benedetti as their lobbyist show donations that match with Liberal events, including BluEarth Renewables, Capital Power and Longyuan. Earlier this year, three companies represented by Mr. Benedetti – BluEarth, EDF Renewable Energy and Invenergy – got electricity contracts with the province.
Mr. Benedetti said the process for handing out government contracts is separate from political fundraising, and contracts are not discussed at these events.
"There is no connection between clients attending events and the planning and procurement processes run by the Independent Electricity System Operator. Suggesting otherwise is completely misleading," he told The Globe.
Mr. Benedetti said he e-mailed clients about the fundraisers only because he wanted to make sure they were in the loop on events relevant to the sector. He said his clients attend fundraisers to learn more about government policy, rather than attempt to influence it.
"I believe that many attend these events not only to support the democratic process, but also to listen and learn what policies or priorities the politicians may have. To most, I believe it's more about developing a better understanding of the politicians' imperatives than about promoting a specific business interest," he said. "I have never experienced any issues speaking to politicians of all party stripes, regardless of whether I've been to their fundraisers."
The Liberals' aggressive fundraising efforts may have backfired: Several players said they got tired of being pressed for donations, and became willing to blow the whistle by leaking information to The Globe.
"The system was working well for the Liberals. And it could have gone on like that," one lobbyist said. "But they pushed it too far."
Now, all three parties are using the impending rule changes as part of their appeals for donations, said sources in companies that have been urged to attend fundraisers. One described pitches that emphasized that this year's events will be "special"; another said the parties are telling stakeholders "don't miss out" before the law changes.
"It feels like the Black Friday of corporate donations," one source said. "It sounds dirty and tacky because it is."
Commentary by the Ottawa Mens Centre
Another classic example of the tip of the iceberg of Ontario, political corruption that is not unique to any political party in Canada or Ontario.
Ottawa Mens Centre