Christie Blatchford: Judge's florid ruling seems an attempt to blow up so-called 'rape myths'
Christie Blatchford | July 21, 2016 8:27 PM ET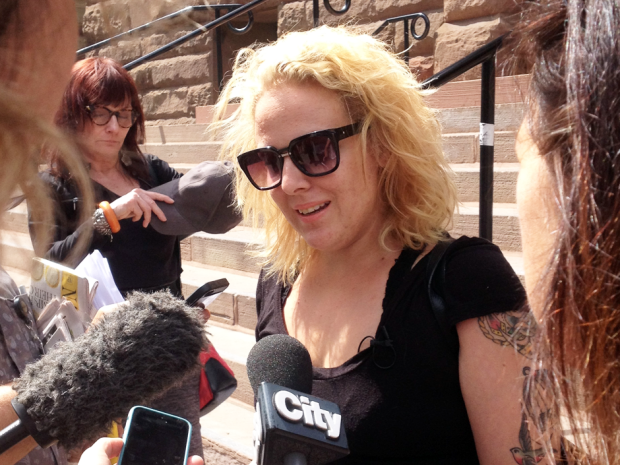 York University graduate student Mandi Gray speaks to reporters outside court on Thursday.
Rare, as a wise friend noted, is the cultural pendulum that swings so hard and sharp it hits people smack in their foreheads and all but knocks them out cold.
But that's precisely what happened in a criminal courtroom at Old City Hall in Toronto Thursday where Ontario Court Judge Marvin Zuker found former York University graduate student Mustafa Ururyar guilty of sexually assaulting another, Mandi Gray, in the wee hours of Jan. 31, 2015.
To scattered titters of pleased surprise at first and finally to applause, the judge also seemed to be trying to blow every so-called "rape myth" to smithereens and set right what he clearly sees as society's failure, and perhaps the justice system's, to deal better with the issue.
In the result, his judgment sometimes sounded as if borrowed from a college course on feminist thinking.
"For much of our history," Zuker wrote, and this was but one passage from a decision that ran to 179 pages that he read aloud, "the 'good' rape victim, the 'credible' rape victim has been a dead one."
At another point, he said, "There are many misguided conceptions of what constitutes a 'real' rape or how a 'real' victim of sexual violence should behave (i.e. scream, struggle to the utmost and report immediately).
"No matter how sophisticated the law is, any allegation that derogates from the stereotype is likely to be approached with a degree of suspicion."
The judge entitled the last section of his decision "I Know Why the Caged Bird Sings," the title of an autobiography by the late American writer and poet Maya Angelou. It may also have been a nod to Gray herself, who has a tattoo of a caged bird on one arm.
The reference was greeted with delighted cries from several in the predominantly young, female audience, who immediately recognized it.
"Rape in the case of Maya Angelou is used to reflect the suffering of her race, and to (her) a bird struggling to escape its cage, trying to understand and respect both her body and her words," the judge explained for those less well-read.
"Virginia Woolf suffered from what she called 'looking-glass shame,' an aversion to seeing herself in mirrors.
"How do we understand our own sufferings, with what words and to what ends?" Zuker asked. "Going (to one hospital and then another, as Gray did), waiting 48 hours? 72 hours to go to the police? Is too long ever too long? Does pain have a time limit? … Mr. Ururyar raped Ms Gray …
"Rape it surely was," he said.
The 29-year-old Ururyar, who now lives in Vancouver, returns to court Monday when prosecutor Jennifer Lofft will attempt to persuade Zuker that Uruyar's bail should be revoked pending his Oct. 24 sentencing.
"The presumption of innocence is no longer operating," Lofft told the judge. "He's a convicted rapist now."
For her part, the 28-year-old Gray wasn't in court as Zuker delivered his verdict but showed up after the lunch break.
As befits a newfound activist, Gray steadfastly refused to appear remotely mollified by the verdict.
As befits a newfound activist — she testified she became one only after she reported the assault to Toronto police — Gray steadfastly refused to appear remotely mollified by the verdict.
In a written statement, she slammed the detectives on her case, demanded the police role in sexual assault investigations be "reconsidered and eventually abolished" and said, "My case is not a demonstration of achieving 'justice' or that the legal system is working to meet the needs of the sexually assaulted or even prevent future sexual assaults."
She admitted she was "lucky" in the prosecutor and judge assigned to her case, whom she praised, but gave most of the credit to her independent lawyer, David Butt, and her own "numerous and intersecting privileges" — that she is a "white, heterosexual woman in my late 20s with a graduate level education and an in-depth knowledge of the legal system … what can be drawn from my experience is that if I am drowning in these systems, what does that mean for those who are not university educated white women who are sexually assaulted?"
The two had met and began sleeping together about two weeks before the assault, she a graduate student in sociology and a teaching assistant, he a first-year PhD student in political science.
Fittingly, they first met at a CUPE meeting where members voted in favour of a strike.
Ururyar, who testified in his own defence, admitted he and Gray had sex, but said it was consensual — and that, in fact, it was Gray who had been the aggressor, sending him a text earlier that night inviting him to join her at a bar to "Drink and then we can have hot sex."
Ururyar said, in a story the judge ridiculed, that Gray embarrassed him by groping his thigh. He testified he was worried about his girlfriend, with whom he had an "open" relationship while she lived in Montreal, would find out.
As the judge said, in a summary of that bit of evidence, "Ms. Gray didn't know why the union would care, everyone slept with everyone in that union."
Zuker was bitingly dismissive of Ururyar's explanation, saying no fewer than seven times, "It never happened this way," and "His version, and I stress his version, without reality. It never, never happened." He even characterized Gray's alleged advances as Ururyar trying to turn the tables, and portray himself as a victim of her sexual aggression.
And of the "hot sex" text, the judge said, "We don't even know what the phrase 'hot sex' means."
That may have been a florid phrase too many; as the judiciary is wont to say, on its face, sir, most of us know exactly what it means.
Commentary by the Ottawa Mens Centre
Justice Zuker made yet another political decision to entirely believe a she said versus a he said without a scintilla of consideration towards the victims's possible motives to fabricate.
If you read the decision, there is nothing to corroborate the story of either party and, Ontario has conveniently changed it's laws so that when she said comes to he said that no corroboration is required.
The reality is that it is next to impossible for a judge to provide any reliability to this form of political decision making rather than legal decision making.
When it comes to she said versus he said, judicial decisions have exactly the same reliability as tossing a coin except Marvin Zuker tossed a double sided coin whose outcome was a forgone conclusion.
That is not going to alter the Government's promotion of false allegations against men for financial reward.
The complainant is now a full fledged certified victim and able to make a claim for a significant financial payout by the Ontario Government as a "victim of crime".
You won't see consideration of that motivation in this decision of Justice Marvin Zuker.
Justice Marvin Zuker
Expect more cases like this where the victim takes a high profile role in giving themselves publicity and self promotion.
Ottawa Mens Centre