Man near death after police beating: Witnesses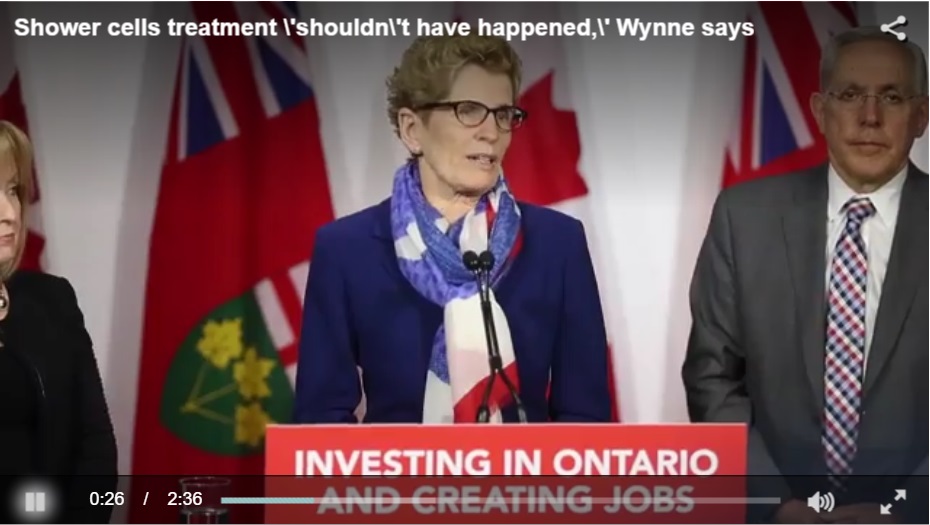 Update:
*Abdirahman Abdi, 37, remains in critical condition Monday morning, family said. Abdi remains on life support.
* The Special Investigations Unit — the civilian oversight body that investigates police cases that result in serious injury, death or sexual assault — said Monday morning that they've designated two subject officers and five witness officers in their investigation. (A subject officer, according to the SIU, is the officer who may have caused whatever is under investigation. Witness officers are the other officers involved in the case under investigation, but who are not subject officers. Subject officers are not required to co-operate with the SIU; witness officers must give an interview to SIU investigators, and the police service must hand over a copy of their notes.)
* Our story from Sunday night is below, we'll be updating this file throughout the day.
-------------------------------------------
A 37-year-old man was in critical condition in hospital Sunday night after a police intervention that is being probed by the Special Investigations Unit.
The man was identified as Abdirahman Abdi by his sister, Hawa Abdi, who said she feared he would not recover. He was being treated at The Ottawa Hospital's trauma centre.
The SIU, the civilian oversight agency that investigates cases resulting in serious injuring, death or sexual assault when police are involved said in a news release that a man attempting to elude arrest led police on a foot chase through Hintonburg in the Wellinging Street West and Fairmont Avenue area around 10:30 a.m.
The SIU said police confronted a man outside 55 Hilda St. and that "at some point during the confrontation, the man suffered medical distress."
However, witnesses who spoke with Postmedia said the man was beaten by multiple officers as he tried to run into an apartment building on Hilda Street. Witnesses said the man lay unconscious on the ground for about 15 minutes before paramedics arrived and began administering CPR.
"You can't go against five cops at once," said witness Asli Mohamed. "It was unnecessary."
Mohamed, 20, a former resident of the apartment building, said she overheard police calling for backup before calling in paramedics. She said she saw blood "all over the place."
"He looked weird — he looked dead," she said. "It was weird that they didn't (immediately) call paramedics. It took way too long. Everything was moving very slowly."
Police were initially called by staff at the Bridgehead café on Wellington Street West, near Fairmont Avenue. A Bridgehead employee, who spoke on condition that their name not be published, said Abdi had been "harassing" a woman at the coffee shop.
Witnesses said Abdi fled on foot, with police in pursuit, to the front of his apartment building on Hilda Street, about 250 metres away.
Abdi lived at 55 Hilda Street with his family, many of whom were at his hospital bedside Sunday.
Nimao Ali, a family friend and resident of the Hilda Street apartment *building*, who acted as a translator for the shocked family, said emergency room doctors were concerned with a "lack of oxygen to (his) brain."
"The doctors said he's not going to make it," Ali said.
According to several witnesses, Abdi was taken down by several officers who then began to kick, punch and beat him with their batons.
After Abdi was subdued and handcuffed he lay bleeding on the sidewalk for more than 10 minutes before he was given medical attention by arriving paramedics, according to one witness.
A 27-minute video recorded by a witness and obtained by Postmedia, shows Abdi, his wrist cuffed behind his back and his pants pulled down, face down for nearly 10 minutes before paramedics arrived, examined the man, removed his handcuffs and started CPR. It is another 15 minutes before Abdi is loaded into an ambulance and taken to hospital.
Off camera, screams and yelling can be heard.
"I think he's dead," one woman can be heard yelling. "Where's the ambulance, he's going to bleed to death."
Nearby, witnesses said officers attempted to seize cellphones from bystanders who were recording the incident.
One man who was said to have recorded the skirmish between Abdi and police did not want to make the video available to Postmedia out of respect for the family, said Mariam Ali, 18, a University of Ottawa student.
Zainab Abdallah, who lives in the building and knows Abdi, said she saw Abdi running toward the doors and the officers fast approaching and yelling at him to lie down.
When he didn't comply, he was taken to the ground, she said. When they began beating him, she said, she tried to intervene.
"I told the police he's a crazy man," she recounted. "They hit, they hit, they hit, they hit everywhere. Then he was unconscious. "Then I was scared. Then I'm shocked.
"It's the first time in my whole life I see a human being hit by another human being."
Abdallah, who has lived in the Hilda Street residence about six years, described Abdi as "a quiet, nice guy.
"He's usually fine," she said. "I don't understand."
Abdi was known by neighbourhood residents to be "non-verbal" and those who spoke to Postmedia said they believed him to be on the autism spectrum.
"I think we're all just surprised because we live in Ottawa and we don't really encounter these kinds of problems," said Mariam Ali. "I wanted to give the benefit of the doubt, but the way that the situation played out it seemed like it was because we were like immigrants or we were black."
Mohamed said that the community usually has a good relationship with police.
But in light of the recent instances of police brutality in the U.S. residents of the Hilda Street apartment are "sensitive" to what happened on their doorstep Sunday morning.
Abdi, an immigrant from Somalia, has lived in the building since 2009. Ali said she felt like Abdi and the rest of the community weren't being treated "the way we were supposed to" and that they "weren't being cared for the way (they) were supposed to" on Sunday morning.
Ottawa police wouldn't comment on the details of Sunday's incident since the SIU was still investigating. The agency has assigned five investigators and one forensic investigator to the case.
The SIU has urged any witnesses to contact the lead investigator at 1-800-787-8529.
Kitchissippi ward Coun. Jeff Leiper commented on the incident.
https://kitchissippiward.ca/content/todays-police-incident-hilda
With files from Shaamini Yogaretnam and Kirsten Endemann
Commentary by the Ottawa Mens Centre
Even the Ottawa Police deserve the presumption of innocence however, that being said, the Ottawa Police are a notorious Criminal Organization that spends its time fabricating evidence, prosecuting the victims of crime, and engaging in corporate delusions of grandeur where they believe they are the law and that if the facts don't suit what they wish to see, they will simply recreate the facts and more often than not, treat men as criminals and women and victims.
In this case, the allegation is that because he was from Somalia that he must be a criminal.
The Ottawa Police are also notorious for "DWB" arrests, aka "Driving While Black".
Other notorious arrests are for a wide range of criminal charges all of which are less likely to be laid against a white person.
Our jails are overflowing with unconvicted black accused and even more disturbing, a a large number of convicted but entirely innocent victims
of police fabrication of evidence simply to form evidence that suits what the police wish to see and which is politically correct.
Now to wait to see if the Ottawa Police will release the names of the officers involved.
If you have a story of "Driving While Black" in Ottawa drop us an email or give us a call on 613 797 3237
Ottawa Mens Centre