Ottawa man Abdirahman Abdi dies after confrontation with police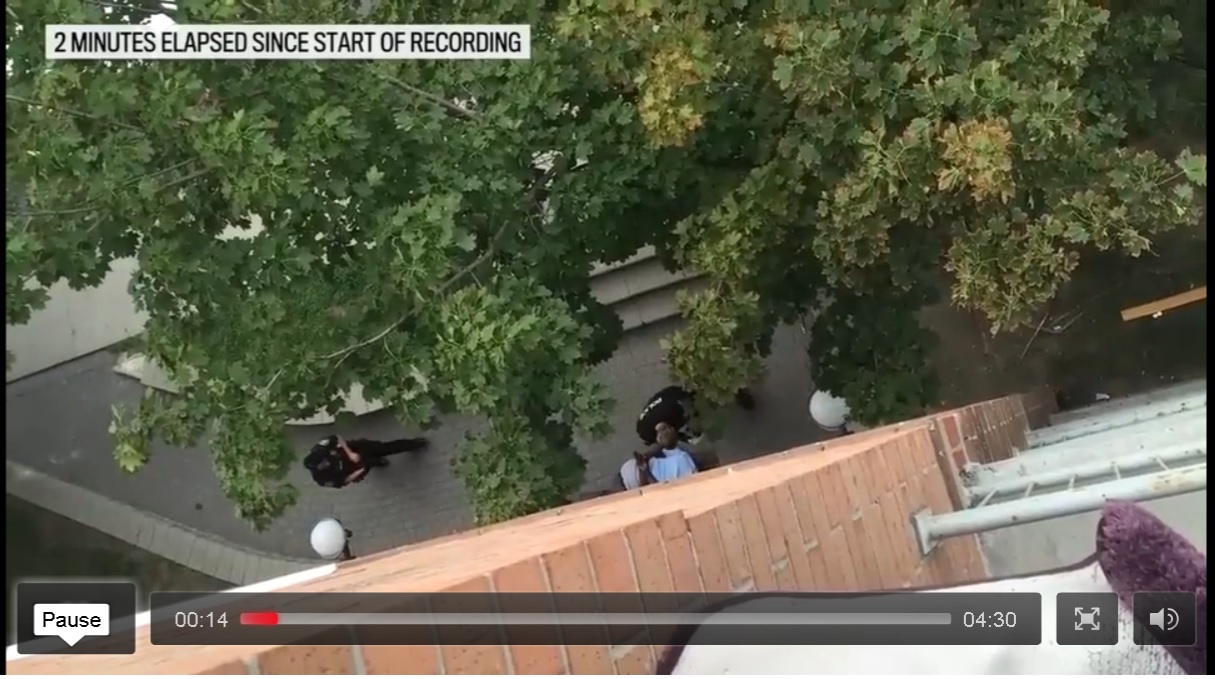 POST MEDIA NEWS
JULY 25, 2016
Abdirahman Abdi died on Monday afternoon, a day after a confrontation between him and police prompted a Special Investigations Unit probe into how the 37-year-old Somali-Canadian man suffered fatal injuries during his arrest.
In a statement, the SIU said Abdi attempted to elude arrest and led police on a foot chase through Hintonburg in the Wellington Street West and Fairmont Avenue area on Sunday morning, the SIU said in a release.
The SIU said police confronted a man outside 55 Hilda St. and that "at some point during the confrontation, the man suffered medical distress."
The SIU — a civilian oversight agency — investigates cases resulting in serious injury, death or sexual assault when police are involved.
The details around what happened between Abdi and police remain scattershot and incomplete. The Ottawa police and SIU have said little because the investigation is ongoing. However, witness accounts have shed some light on the events that led to Abdi's death.
Witnesses who spoke with Postmedia said the man was beaten by multiple officers as he tried to run into an apartment building on Hilda Street.
"You can't go against five cops at once," said witness Asli Mohamed. "It was unnecessary."
Witnesses also said Abdi lay unconscious on the ground for about 10 minutes minutes before paramedics arrived and began administering CPR.
However, on Monday, Ottawa police Chief Charles Bordeleau said officers called paramedics 23 seconds after Abdi collapsed. He said officers also administered CPR.
One person with knowledge of the investigation said police only started administering CPR several minutes after Abdi collapsed after being told to do so by the first responders.
Mohamed, 20, a former resident of the apartment building, said she overheard police calling for backup before calling in paramedics. She said she saw blood "all over the place."
"It was weird that they didn't (immediately) call paramedics," she said. It took way too long. Everything was moving very slowly."
Police were initially called by staff at the Bridgehead café on Wellington Street West, near Fairmont Avenue. Multiple people interviewed on scene said they heard Abdi had been "harassing" a woman at the coffee shop.
Bordeleau said the police received multiple calls about Abdi's alleged "assaultive" behaviour.
The chief said the behaviour continued and then a foot pursuit began, culminating in the arrest on Hilda Street.
After Abdi was subdued and handcuffed he lay bleeding on the sidewalk for more than 10 minutes before he was given medical attention, according to one witness.
A 27-minute video recorded by a witness and obtained by Postmedia, shows Abdi, his wrist cuffed behind his back and his pants pulled down, face down for nearly 10 minutes before paramedics arrived, examined him, removed his handcuffs and started CPR. It is another 15 minutes before Abdi is loaded into an ambulance and taken to hospital.
Off camera, screams and yelling can be heard.
"I think he's dead," one woman can be heard yelling. "Where's the ambulance, he's going to bleed to death."
Nearby, witnesses said officers attempted to seize cellphones from bystanders who were recording the incident.
Abdi was described by Nimao Ali, a family friend of almost 20 years and a resident of the Hilda Street apartment building, as someone "struggling with mental illness."
However, she said he lived a relatively normal life.
"Even though he was struggling … there was a time he was working, there was a time he was going to school. So he lived same as everybody else," she said.
Abdi arrived in Canada in 2009 and wasn't as comfortable speaking English, Ali said. She said if someone was speaking English to him he wouldn't always be comfortable. She also described him as a kind and caring man.
"He was kind and gentle and a happy smiling person — very respectful. If you even take an elevator with him he'd hold the door."
Ali was echoed by Abdi's brother, Abdiaziz Abdi, 27.
"My brother was kind-hearted, he was helpful and friendly. He used to work at the car wash and he would send his money back to Somalia to help family," he said.
And late on Monday afternoon, Jeff Leiper — the councillor for Kitchissippi Ward, where Abdi lived — released a statement shortly following news of Abdi's death.
"This afternoon, I received word that Abdirahman Abdi passed in hospital. I cannot express fully my grief. My deepest condolences to his family and friends.
"In the past hours, we have received numerous expressions and sympathy from Kitchissippi residents. They have made numerous offers of help, and I have passed on to the family the community's willingness to help they and their neighbours at this very difficult time. My thanks to everyone who has written."
Commentary by the Ottawa Mens Centre
There is a culture of disrespect for the law by the Ottawa Police that is unlikely to change other than
by superficial words for the Police to pretend that they have "addressed" and hopefully that they,
the Ottawa Police can pretend that nothing ever happened.
Expect more assaults and deaths as a result of abuse of power by
Ottawa's Largest Criminal Organization, the Ottawa Police.
You may have heard of race targeting. More disturbing is
the practice of "Gender Superiority" part of Ontario's Fascist Program of Gender Superiority
that arrests male victims of domestic violence.
The Ottawa Police are fascist thugs and the only solution is the disbandment of the Ottawa Police.
Dont expect the problems to go away.
Any disbandment will see most of the present officers incorporated into the new police force]
to be administered by the OPP or the RCMP.
Ottawa Mens Centre