Katherine Kitts should get 12-14 months for sexually exploiting student: Crown
Judge will deliver sentence Aug. 30
By Kristy Nease, Waubgeshig Rice, CBC News Posted: Aug 22, 2016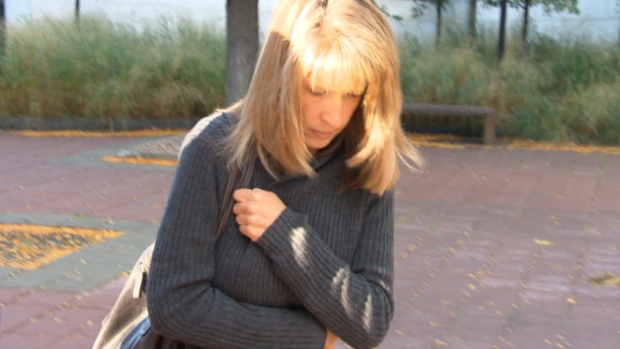 Katherine Kitts leaves the Ottawa courthouse after her release on bail in October 2014. (CBC)
An educational assistant who was based out of Sir Robert Borden High School in Ottawa should be sentenced to 12 to 14 months in jail for sexually exploiting a student over a two-year period, argued the Crown attorney at her sentencing hearing Monday.
Katherine Kitts, 46, was arrested in 2014 after a mother found sexually explicit texts on her son's phone and contacted police with concerns about Kitts's relationship with him.
The offences happened between April 2012 and April 2014 while Kitts was working at Sir Robert Borden High School. She had sex with the student repeatedly throughout those years, including in Kitts's van, parked off school property.
Kitts was initially charged with sexual assault, sexual exploitation and telecommunication with a person under 18, but after pleading guilty to sexual exploitation in March, the other two charges were stayed.
At Monday's sentencing hearing, crown Robert Thomson called for a 12- to 14-month sentence, while Kitts's lawyer Susan Chapman argued for a 90-day intermittent sentence, followed by probation.
Courtroom drama
As the Crown read some of the case's facts during his submission, the victim's mother, who can't be identified due to a publication ban, became emotional and left the courtroom, saying, "I can't handle this."
Following the submissions, Kitts addressed the court with a prepared statement, saying she was "very sorry" and that she "never meant to cause any trouble or harm."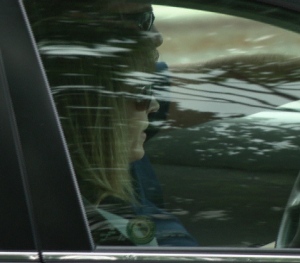 Katherine Kitts leaves in a car following her sentencing hearing in Ottawa on Aug. 22, 2016. (CBC)
She apologized to the boy's mother, who was no longer in the room. "I understand that I was the adult and I was in a position of trust," Kitts said. "And I should have never allowed for the relationship to become intimate.
"I will do anything I can to make up for the damage I've done."
Kitts, who is divorced and has two teenaged boys of her own, added she's "scared of what will happen to my boys if I am to be incarcerated for a period of time."
Mother wants stiffer penalties
Following the hearing, the victim's mother spoke to reporters outside the Elgin Street court house. "I find it very upsetting," she said of Kitts's statement and the details of the case reviewed in court. "It's hard to hear."
She wants a longer sentence than the one the Crown is calling for. "I think that penalties should be stiffer," she said.
"This hurts boys just as much as girls ... it should be sentenced the same way. I think this happens to boys a lot more than we know."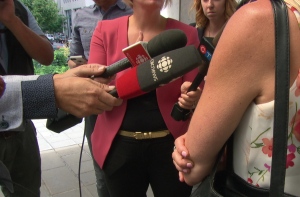 The victim's mother, who can't be identified due to a publication ban, speaks to reporters after Katherine Kitts's sentencing hearing. (CBC)
She said her son is "coping," and he's looking forward to the end of the court proceedings. But the saga has taken a toll on him and his family, the mother said.
"It's been hard to work, and hard to maintain my friendships. I just feel like the world's very small right now."
'My innocence was destroyed'
In a statement read in court by the Crown in March, the victim said Kitts threatened to fail him if he ended things.
"My innocence was destroyed by Mrs. Kitts," the boy said in the statement.
She was on leave from the Ottawa-Carleton District School Board with pay from October 2014 until her guilty plea in March, at which time the board said she would no longer be paid and that the board would make an immediate recommendation to terminate her employment.
A board spokesperson confirmed Monday that Kitts is no longer employed by the OCDSB.
Kitts will be sentenced on Aug. 30.