Ottawa police officers break ranks over 'tyrannical' staff sergeant
Airport unit officers say neither force nor union protected them from alleged bullying
By Judy Trinh, CBC News Posted: Jan 30, 2017 5:00 AM ET Last Updated: Jan 30, 2017 2:54 PM ET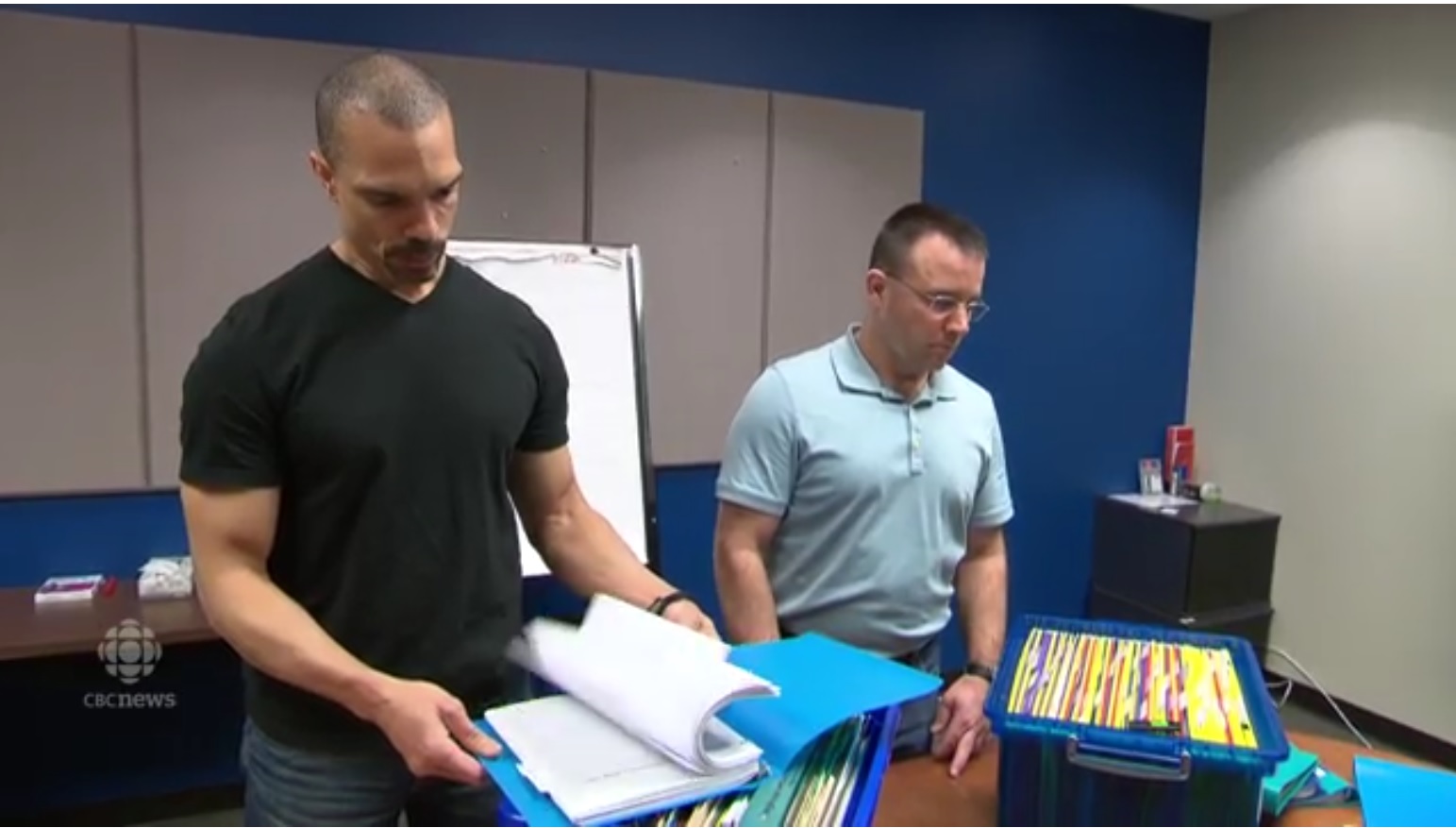 Police officers break ranks over staff sergeant
Some Ottawa police officers are speaking out about a staff sergeant accused of "tyrannical" behaviour, and say neither the force nor their union had their backs when they blew the whistle on the alleged bullying they say they suffered while stationed at the Ottawa airport.
Documents obtained by CBC News and signed by 10 members and former members of the airport unit detail their complaints about Staff Sgt. Rene Spirito, who was in charge of the group from 2012 to 2015.
In lengthy emails, the officers portray Spirito's leadership style as "tyrannical" and allege he created a "toxic and unsafe" work environment. They describe Spirito's volatile temper, his habit of openly favouring some officers while publicly demeaning others, and one incident in which he allegedly unholstered his firearm in the office.
------------------
'I didn't sign up to be controlled and harassed and manipulated by management. Why would you do that to your own officer?'- Const. Kelly Ryan
---------------
In a rare departure from a police culture that's often secretive, two constables and a retired officer who worked under Spirito are breaking ranks and speaking to CBC.
They say they were punished by the force when they attempted to file a grievance claiming bullying by Spirito, and then abandoned by their union, the Ottawa Police Association.
"I did nothing wrong," said Const. Matt Clarke, a 20-year veteran of the Ottawa Police Service. "My rights weren't protected at the time."
Sergeant waved gun, officers say
According to the officers' accounts in the emails obtained by CBC, Spirito started making waves almost immediately upon his arrival at the airport unit in 2012.
In one incident within weeks of his arrival, officers allege Spirito removed his loaded gun from his holster and waved it around while recounting a story about his days on patrol. There's no indication he pointed the weapon at any of his colleagues.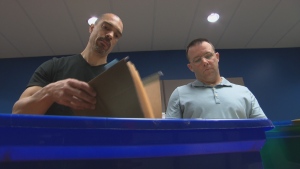 Const. Matt Clarke, left, and Const. Kelly Ryan were transferred out of the force's airport unit after they tried to file a grievance alleging bullying by a staff sergeant. (Jean Delisle/CBC)
The Police Services Act states that officers may only draw their weapons if it's necessary to "protect against loss of life or serious bodily harm." Retired constable Gord Shultz reported the incident to his superiors, including the police chief.
"Accidental discharges can happen, I've seen it before," said Shultz. "You're pulling out your gun for no reason. A staff sergeant should be better than that."
The Ottawa Police Association said the matter was fully investigated and no charge was ever laid in relation to the incident, but union president Matt Skof wouldn't say whether Spirito was reprimanded in some other way.
Airport unit called 'island of misfit toys'
Spirito refused to comment on this story and asked CBC not to contact him again.
But in a written report to his boss shortly after being posted to the airport, Spirito referred to the unit as "the island of misfit toys," an assignment that was "viewed as a retirement home for officers in their last years or a place to send problem employees."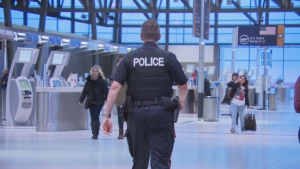 Ten Ottawa police officers out of the 20 stationed at the Ottawa airport filed complaints against the staff sergeant. (CBC)
In his report, Spirito wrote that he wanted to pump new blood into the unit, and that his goal was to change the culture and perception of airport police.
According to the emails from some of the officers working under him, Spirito pushed his team to conduct more searches and seizures at the airport.
Clarke claims Spirito practised favouritism, labelling one platoon "the good side" and the other "the bad side," and arbitrarily shuffled officers onto different shifts without consulting them, throwing their personal lives into disarray.
Officers reassigned
Officers with the unit said they tried for two years to work through the force's chain of command to fix the issues, but nothing was done. So in February 2015, 10 of them attempted to file an official grievance through their union, complaining of workplace bullying under the Occupational Health and Safety Act.
Documents show there were several meetings to discuss the grievance, but they all broke down, sometimes ending in shouting matches. As a result, some officers began recording their interactions with management on video pens.
At the end of April 2015 the officers were summoned to a meeting with a superintendent and an inspector. They were called into an airport board room one by one to learn their fate.
Clarke, Ryan and Sgt. Alex Bender, who had originally brought his platoon's complaints about Spirito to the attention of Chief Charles Bordeleau, were informed they were being transferred to different units.
Another slap in the face
The reassigned officers complained to their union that they felt like they were being punished for speaking out about Spirito, but said the police association told them they didn't have a legal basis to file the grievance.
Ryan, an Ottawa police officer for 15 years, said it felt like another slap in the face.
"I didn't sign up to be controlled and harassed and manipulated by management. Why would you do that to your own officer? I was a productive officer," said Ryan, who is currently on stress leave.
Instead the union advised the officers to participate in a workplace safety investigation conducted by a neutral investigator. The investigator would be chosen by management and the force would not disclose the findings.
Concerned about a lack of transparency, Clarke and Ryan refused to participate in the investigation, and accused the union of violating its responsibility to represent its members fairly. Bender did not speak to CBC for this story.
However Skof said the union went above and beyond its duties when it successfully negotiated for the investigation.
"The frustrating part here is that we have members who don't want to participate regardless of the efforts made by both the service and the association," said Skof. "When they won't participate it's hypocritical to lay the blame at one person's feet."
The dispute between the officers and their union is currently under arbitration.
Officers sought 2nd legal opinion
Having lost faith in their union, Clarke, Ryan and three other officers among the original 10 sought a second opinion. They paid $10,000 of their own money to consult labour lawyer David Jewitt, who found that the transfer of the officers would have a "chilling effect across the bargaining unit with the respect to the filing of any future complaints of harassment."
Jewitt concluded that in his legal view, the decision to move the officers out of the airport unit did indeed amount to punishment for speaking out.
In the fall of 2015 — just a few months after the officers were turfed from the airport unit — Spirito was also reassigned and is now working as a staffing officer in patrol.
CBC contacted the inspector who informed the officers of their transfer, but was told the force will not comment on ongoing labour matters.
Commentary by the Ottawa Mens Centre
This is not even the tip of the iceberg when it comes to the Culture of Criminality at the Ottawa Police that makes it a Criminal Organization where fabrication of evidence and obstruction of justice are the norm.
The above story is about how the Ottawa Police treat their own, and its the story of what goes on behind the closed doors and generally closed ranks of the Ottawa Police that begs publicity.
Waving a handgun around is petty compared to the other more serious habitual practices that make the Ottawa Police a private army that are there to serve and protect those who are in absolute power in Ottawa and Ontario.
Its a culture of criminality with a veneer of respectability that makes the Ottawa Police one of the most reviled Criminal Organizations in Canada.
Take Peter Van Der Zander, this despicable example of criminality, fabricates evidence, and obstructs justice for his own personal motivations that include being a virtual hired gun to do "favours" for those he associates with.
This includes fabricating police reports that are later found to be disturbingly false when compared to the notes of other officers and video recordings of his own interrogations which break all the common sense rules and can only be described as deliberate attempts to obstruct justice.
After complaints to the Ottawa Police, he was removed from investigations and placed on a desk at the Ottawa Court House.
Amongst the Ottawa Criminal Lawyers, he is openly referred to as "A Rotten Cop", and that's a very polite term for one of the worst child abusers in Ontario.
His evidence has been rejected for improper interrogations, and the documentary evidence of his trail of destruction is proof positive that he is a pathological liar and a criminal employed with a six figure income by the Ottawa Police.
The Ottawa Police need to take responsibility for their Culture of Criminality and to get rid of the Criminal Scumbags in the Ottawa Police like Peter Van Der Zander.
Ottawa Mens Centre