Ex-hostage American Caitlan Coleman accuses Canadian husband Joshua Boyle of abuse, in court documents
Caitlan Coleman says her husband, Joshua Boyle, deepened the nightmare of her captivity during their five years as hostages in Central Asia.
In unsealed court documents, Coleman alleges she was physically and emotionally abused by Boyle while they were being held by the Taliban-linked Haqqani network.
"J.B. (Joshua Boyle) regularly threatened to kill me by setting me on fire," Coleman says in an affidavit filed in June as part of a family court application to gain sole custody of the couple's children
The specific allegations contained in the affidavits have not been proven in court.
Coleman, Boyle and their three children, all of whom were born in captivity, were rescued in October 2017 by Pakistani security forces after living as prisoners for five years in Afghanistan and Pakistan.

Ontario Superior Court Justice Tracy Engelking also issued an order restraining Boyle from contacting or coming near Coleman and their children.
RELATED
"To say that the circumstances of this case are tragic in the extreme would be an understatement," Engelking said in her custody ruling.
The judge was presented with wildly different stories by Boyle and Coleman, but ultimately decided that it was in the best interests of the children to allow them to return to Pennsylvania with their mother. "Under the exceptional circumstances of this case, requiring C.C. (Caitlan Coleman) and the children to remain in Ottawa would be akin to once again holding them hostage."
Boyle, 34, vigorously denied Coleman's allegations, and levelled his own allegations of abuse in documents filed as part of a failed cross-motion to block his wife from leaving the country with their children.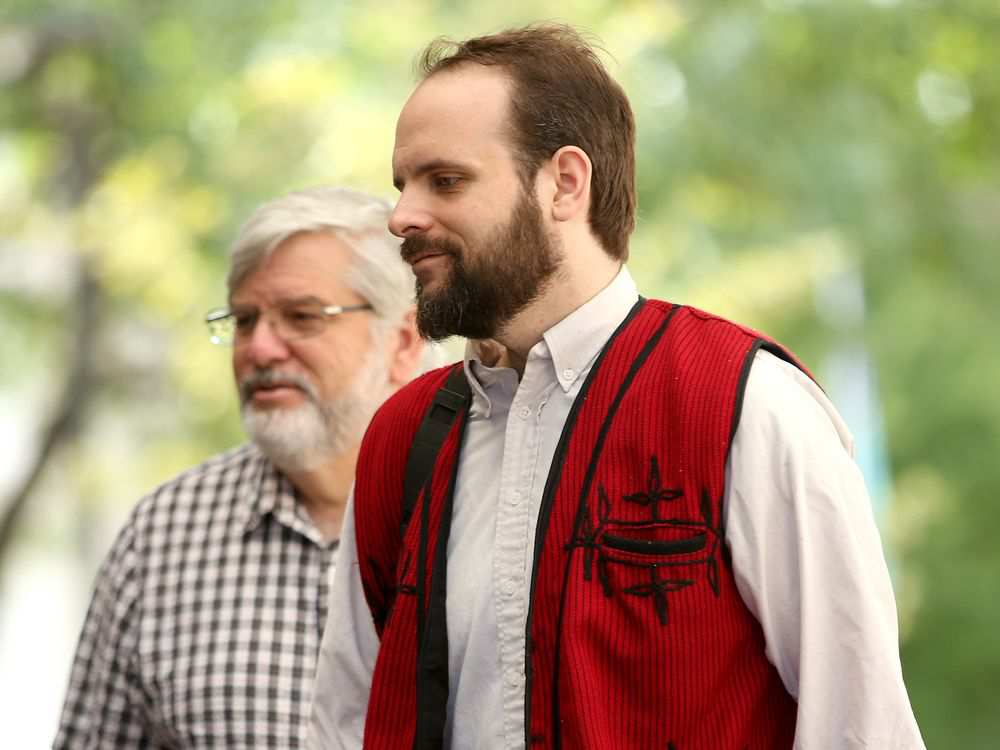 In his 23-page affidavit, Boyle alleges his wife assaulted him and neglected their children because of untreated mental health issues.
He also alleges Coleman tried to push him in front of a Toronto Transit Commission subway car years before they were married.
Justice Engelking, however, said she received no evidence to support the contention that Coleman suffers from a mental health issue that could affect her suitability as a parent.
"The court does have evidence, on the other hand, that C.C. is healthily and protectively parenting the children," Engelking noted before concluding: "Based on all of the evidence before me, I can find little to suggest C.C. would not be a suitable temporary custodian of the children."
Obtained by this newspaper after a court application, the documents in the case offer a window into the couple's deeply troubled relationship and provide new details about their hellish, five-year hostage ordeal.
Boyle, an aspiring journalist, met Coleman, a Quiznos restaurant manager, online in 2002. They became romantically involved four years later, but theirs was a turbulent, on-again, off-again relationship.
Boyle says their shared interests sustained them. "We both enjoyed BDSM (bondage)," Boyle says in his affidavit. "We both wanted to travel by way of backpacking, and we both wanted to see the world."
They married during a trip through Central America in July 2011, but soon separated. Coleman began divorce proceedings in March 2012.
One month later, Boyle visited Coleman at her home in Pennsylvania where they reconciled. They agreed to go backpacking through Central Asia, he says, and decided to leave on the trip even after finding out that Coleman was pregnant with their first child. They departed in July 2012.
In her affidavit, Coleman insists that she reluctantly agreed to the trip only after Boyle promised not to go to Afghanistan. Boyle disclosed his true intentions after they landed in Central Asia, she says, "so that I would not back out."
Boyle insists Coleman knew he intended to go to Afghanistan — a trip designed to further his journalistic ambitions.
"We crossed into Afghanistan for a short while in hopes that I could meet people who could give me a story I could write about," he says in his affidavit. "I had hoped that personal experience in Afghanistan might help me to land more permanent journalism work."
Boyle has previously suggested that they travelled to Afghanistan to do humanitarian work.
They were taken hostage on Oct. 10, 2012, after leaving a Kabul guest house in a taxi. Coleman was five months pregnant at the time.
Boyle says their captors inflicted severe physical and psychological damage on them for the next five years, during which they were moved to 19 hideouts in both Afghanistan and Pakistan.
In their affidavits, Boyle and Coleman offer completely different accounts of their relationship during captivity.
Coleman says Boyle became increasingly erratic and irrational during their ordeal, and fixated on "depicting me as an enemy in his life."
"The guards would separate us for a few days, weeks or months at a time," she says. "When we were returned together, J.B. would accuse me of betraying him by accepting niceties from the guards and not asking for him more often."
After three years in captivity, he became increasingly abusive, she says: "J.B. had uncontrolled rage, instituted corporal punishment of me, and struck me in a fit of rage."
He repeatedly told her that she was "one of the worst people in the world," Coleman says, and suggested that "a husband who kills his wife is justified."
After a disagreement in February 2017, she alleges, Boyle "hit me in the face hard enough to break my cheekbone."
Coleman alleges Boyle later confined her to a small shower stall for weeks at a time.
ALSO: Boyles vs. World: Twitter account offers puzzling window on family
In his affidavit, Boyle alleges that Coleman neglected their children while in captivity, leaving him as the primary caregiver. "Multiple captors would reference me as the 'wife and mother, husband and father' in the family, noting that all nurturing of the children was entirely upon me," he says.
Boyle says he slapped his wife once while in captivity as she attempted suicide by trying to overdose on stockpiled medication.
He often went without food, Boyle says, to give more to his children or pregnant wife, and spent hours whittling toys and gifts for them with a spoon.
He built a small garden beside the family's squat toilet, he says, and planted okra, bean and mango seeds so that his children could appreciate gardening. He captured mice for the children to keep as pets, and sewed them clothes from blankets and scraps. He wrote them songs, taught them sign language, made up stories to entertain them, and helped them memorize selections of the Bible and Qur'an, according to his affidavit.
Boyle says he also taught them about their Canadian and Irish heritage.
"Their knowledge of Canada was exhaustive enough to being able to identify northern islands such as Devon, Banks and Victoria on hand-drawn maps, a desire to move to the Magdalene Islands due to a Stompin' Tom Connors song they knew, bedtime stories often drawn from Road to Avonlea, and pretending to be Emily Carr when using mud to finger paint pictures of Salish homes (that always looked suspiciously like our cell, unsurprisingly)."
READ: From Nazi women and Khadrs to Star Wars and torture: A look at Joshua Boyle's vast Wikipedia edits
Coleman, meanwhile, told court that she was the primary caregiver, and was responsible for home-schooling the children during the family's captivity.
What's more, in a second affidavit filed in response to Boyle's, Coleman alleges she did not share her husband's interest in Central Asia or the extremist ideologies it harboured.
"I would like to stress, most strongly, that for more than a decade, the respondent (Boyle) has had an interest in extremist ideologies and in the complete subservience of women. I have never shared that interest."
She pointed to his previous marriage to Zaynab Khadr as evidence of his interest in extremism. Khadr is the eldest daughter of Ahmed Said Khadr, a member of Osama bin Laden's inner circle who died in a firefight with Pakistani forces in October 2003; she outraged many Canadians with her comments in a 2004 documentary in which she suggested that the Sept. 11 terror attacks were justified.
The Boyle family was rescued last October in a dramatic shootout that made international headlines. Weeks after returning home, the Boyle family met Justin Trudeau in the Prime Minister's Office.
Blatchford: Charges or no, it was odd for Trudeau to meet with Boyle family
In his affidavit, Boyle says that readjusting to life in Canada has been a traumatic experience. "While captivity was the worst thing that ever happened to me," he says, "the adjustment to coming home was a very close second."
Coleman is due to give birth to the couple's fourth child this month.
Commentary by the Ottawa Mens Centre
This was not a good or unexpected day for Lawrence Greenspan. Every lawyer in Ottawa knows the background of former CAS lead lawyer Tracey Engleking who managed to defy all the complaints and get appointed as a judge, most probably because the CAS "anointed" her as a judge.
When it comes to she said versus a he said, on the surface, its hard to tell the difference. However, Boyle's many thousands of entries on Wikipedia alone is sufficient evidence for any average person to draw conclusions that he has at least obsessions, fanaticizes, delusions, and at worst some serious personality disorders not to mention a variety of mental health problems.
The Wikipedia entries, show for example that he claimed contact with "families of alleged terrorists", specifically the Toronto 18. Then there was his marriage to Zaynab Khadr. HIs own admissions provide a disturbing amount of evidence that reads like a work of deranged fiction.
The unanswered or to be answered questions re Boyle are numerous and so serious that he will remain a national security risk for the rest of his life.
That begs the question, as to what advice did Pierre Trudeau receive before he stupidly decided to meet the family? Thats ammunition on a platter for the far right to label Trudeau as a terrorist sympathizer.
That's not the end of the story. Caitlan Coleman knew the risks of her relationship with Boyle and she is highly likely to go onto another dysfunctional relationship as is Boyle who will attract a real nutbar. By giving her permission to leave the country, there will be no supervision or ability to monitor her in future. Her parents and family will become her minders, just as Boyle's parents are his minders.
Boyle's allegations are not unexpected bearing in mind her decisions to be with and remain with "Boyle". What is disturbing is that there is NO evidence by Tracey Engleking or, any other judge, to order mental health assessments for both of them.
That stinks. It's an obvious order that was needed when it was first filed. What happened at those preliminary motions? Just reading the litany of at least poor decisions by Coleman is enough to conclude she does have a mental health problem.
Both of them will have mental health issues from the experiences that they have been through. That alone is enough to raise a red flag that what everyone sees, is not necessarily evidence of their obvious preexisting personality disorders and or mental health problems.
It is evidence that both of them will appear to be nuts because of what they have been through. That's when Tracey Engleking chose to see what she wanted to see and not what was actually in front of her.
Tracey Engleking is a psychopath, devoid of empathy and or compassion. This is where our judges often come from. Once appointed, the power goes to her head, and her lack of compassion, willingness to fabricate and or obstruct only increases as her accountability drops to zero.
Judges chambers is a toxic place with toxic personalities akin to a club house for criminals.
Then there are the public pictures, that have her wearing a headscarf. Did she take that off before Tracey Engleking?
Justice Tracey Engleking made this "high profile decision" that on the surface, is an expected one under the circumstances.
Tracey Engleking however has a long track record of fabricating evidence, and obstructing justice when she was a lawyer for Ottawa's largest criminal organization, the Children's Aid Society of Ottawa. That should have disqualified her from hearing any family or child protection matter.
More disturbing, is the failure of the Judicial selection committee who approved this criminal as a judge.