While investigating allegations of a fake psychologist, police charge a real one
Dr. Ron Frey has assessed hundreds of police officers across Canada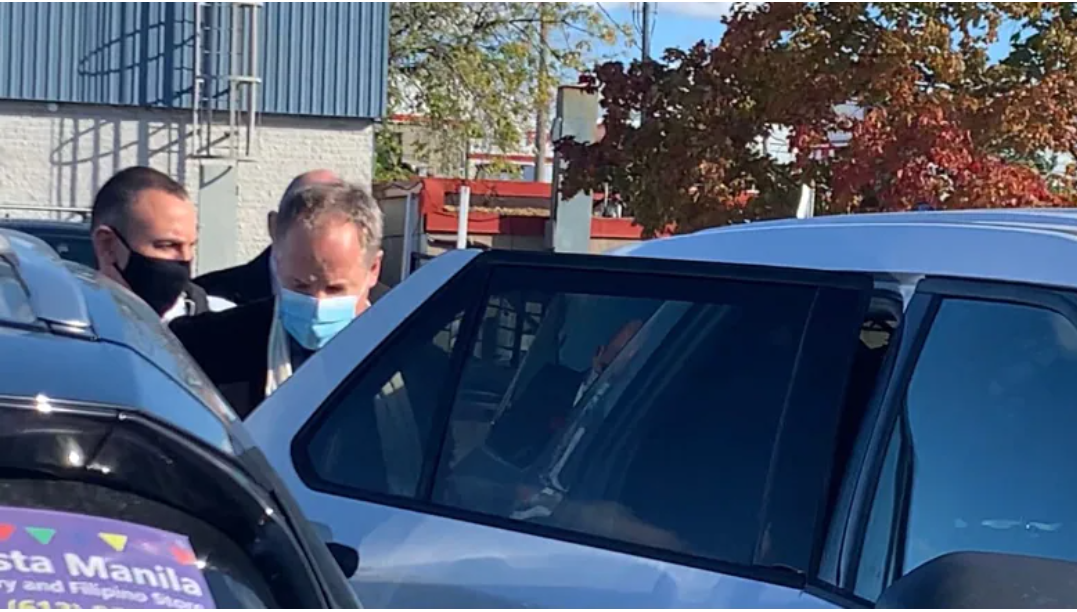 Clinical psychologist Dr. Ron Frey is placed under arrest and put in an unmarked police cruiser outside his Ottawa office on Monday. Frey has been charged with public mischief. Investigators say he filed a false complaint about someone posing as him. (Judy Trinh/CBC)
Investigators have made an arrest in the unusual case of a fake psychologist who was working with the Ottawa police. But in a twist, investigators say the culprit isn't an imposter — but the actual therapist.
Const. Kimberly Cadarette told CBC News in June she believed that the psychologist who had assessed whether she was fit for duty, in a series of face-to-face sessions 14 years earlier, was an imposter.
Cadarette says she was taken off patrol and ordered to see a therapist after complaining about sexual harassment. She says the details of the resulting assessment, which she believes was fraudulent, leaked out and ruined her potential for career advancement.
The assessment bore the letterhead and signature of Dr. Ronald Frey, a clinical psychologist with two decades of experience working with municipal police forces, the RCMP and the Canadian Forces.
In 2020, Cadarette considered legal action against the Ottawa Police Service (OPS) for the historical complaint. But during a Zoom meeting with her legal team, Frey denied writing Cadarette's fit-for-duty report.
CBC News later brought them face to face and, in an extraordinary encounter, both declared they had never met before.
WATCH | Frey, Cadarette come face to face:
Const. Kimberly Cadarette and Ron Frey both say they've never met each other, despite a psychological report that says Frey treated Cadarette in 2007. 1:13
OPS asked an outside force, York Regional Police (YRP), to investigate Frey's allegations he'd been impersonated.
On Monday, in an unexpected turn of events, York investigators arrested Frey at his clinic in south Ottawa and charged him with one count of public mischief.
A YRP spokesperson said, in a statement to CBC News, Frey had "twice reported to the Ottawa Police Service that he had been impersonated when he had not."
Asked how they determined Frey's statements were false, they declined to answer, saying: "This forms the evidence for the case and cannot be disclosed as it is now before the courts."
'It's a complete puzzle'
Frey's lawyer, Bruce Engel, says his client has yet to receive any information from the police or the Crown attorney's office, but that his client intends to vigorously defend against the allegation.
"My client has instructed me to vehemently deny all the allegations and vigorously defend him in court. He insists that he has done absolutely nothing wrong," said Engel.
The arrest has also left Cadarette's lawyer, Peter Brauti, flummoxed.
"It's a complete puzzle for me and I just wish there was more transparency in all of this, because at this point we don't know why Dr. Frey has been arrested," he said.
Brauti says York police told his client that investigators had found information showing Frey had had some contact with Cadarette, contrary to their claim of having not previously met. He doesn't know what evidence investigators have but it's left him with even more questions.
"I don't see what the motive would be for [Frey] to be dishonest about any of this."
For three days, four officers in two vehicles waited to arrest Frey outside his clinic at 1800 Bank St. in Ottawa. Frey didn't go into work last Thursday or Friday, but on Monday, he arrived shortly after 9 a.m.
Frey, 53, has been practising for more than two decades. Much of his work involves conducting mental health assessments for law enforcement agencies. (CBC)
The officers were joined by two others and, at 2:18 p.m., Frey was escorted out of his office and handcuffed just before being put into a police SUV. York police took him to OPS headquarters to interrogate him and, after several hours in custody, Frey was charged with public mischief and released with a promise to appear in court in December.
The charge was laid after a four-month investigation. Around 15 people were interviewed, among them former Ottawa police chief Vern White, now a senator. One other Ottawa officer who also claims he was assessed by a Frey imposter told CBC he had also been interviewed by York investigators.
York police allege Frey falsely reported having been impersonated "by someone acting as a psychologist while treating a patient" between Sept. 21, 2007 and Oct. 25, 2007.
Those dates correspond to the dates of Cadarette's weekly fit-for-duty sessions at a medical clinic at the University of Ottawa.
Frey previously told CBC News that after speaking with Cadarette and her lawyer on Zoom last year, he reported concerns about potential fraud to the head of the OPS mental wellness program in November 2020.
Following the broadcast of his CBC interview in June, Frey filed a second complaint to a provincial police watchdog, the Office of the Independent Police Review Director (OIPRD).
In that complaint, Frey alleged that he was impersonated in his professional capacity, possibly by an officer of the Ottawa Police Service and further alleged that OPS failed to investigate until the matter was raised in a media report.
WATCH | 'Nothing's changed for us,' Brauti says:
Hundreds of clients
Frey, 53, has been a practising psychologist since 2000. According to his resume he has worked with dozens of public- and private-sector clients. Much of his work is with law enforcement agencies, from municipal police services to the Ontario Provincial Police and the RCMP. He has also assessed workers at Public Safety Canada, the Canada Border Services Agency and the Department of National Defence.
Frey has conducted psychological evaluations of officers facing high-risk deployments. He assesses officers who suffer from traumatic stress on the job and evaluates whether they can return to work and carry a sidearm.
Because this is an ongoing investigation, Ottawa police Chief Peter Sloly declined to comment. But in a memo to staff, sent after Frey was arrested, Sloly wrote:
"We realize the news of this arrest may have an effect on members who have either received treatment or been evaluated by him. Wellness supports are available for anyone impacted by these events."
Commentary by the Ottawa Mens Centre
The CBC have a long history of not allowing any comments regarding the Ottawa Police.
An amazing story with amazing allegations made in the face of allegations so unusual as that
mean either Ron Frey and Kimberly Cadarette both conspired to obstruct justice or, that is exactly what the Ottawa Police are doing or a mixture.
This is an almost comical story that would be comical if it were not for the long track record of most of the parties involved.
The Ottawa Police are notorious for laying criminal charges for political reasons, its called denial, and often the laying of charges or absence of charges is to intimidate and retaliate.
This article begs the question as to who would have motive to fabricate fake psychological sessions?
That puts the Ottawa Police as the party with the most reasons to be motivated to fabricate.
How high up the chain of the Ottawa Police would this have to go? How many officers would be in on such a conspiracy? Knowing the Ottawa Police, they are experts at plausible deniability.
The unwritten rule is that one officer always covers for another officer who fabricates regardless because at the end of the day, none of them will go down for criminal offences.
So, where are the "red flags". First CBC examined the benefits record of Cadarette and there are no
claims paid for any psychologist while she was with the Ottawa Police and, "someone" in the Ottawa Police appears to have fabricated the report.
So what are we seeing?
We are seeing some very dangerous practices by the Ottawa Police
and if we are to believe Cadarette, the Chief of the Ottawa Police "recommended" the meeting
however, that does not mean that any record exists of the Chief of the Ottawa Police actually knowing that
the psychologist was not Dr. Frey but a person acting on behalf of the Ottawa Police.
How could this have happened?
Very easily. The Ottawa Police believe they can lie , cheat and fabricate evidence in order to
have reports , that are "formed" as a "reaction" to facts they do not want to see or have on the record.
In psychology its called "Denial", and in denial its called "Reaction Formation".
So is Cadarette, a credible witness? She has a lot of strikes against her, first, she worked for the Ottawa Police where fabrication of evidence is a habitual practice. Its not possible that any new officer is not part of that corrupt system by the time they become "indoctrinated".
Cadarette made allegations of sexual misconduct, that are at the low end of the evidence scale and the probability of any police board supporting those claims is on the same low end of possibilities.
Cadarette has been trained in what victims state, in what is expected of victims and her language is text book victim language that is almost certain not to be challenged. Its this language that really pokes a red hot poker in the backsides of the management of the Ottawa Police.
The Ottawa Police is entrenched in culture of criminality and where absolute power corrupts absolutely.
While most Ottawa Police do not engage in sexism, as they know its the one area where officers can be charged criminally while every other criminal offence will be ignored.
Take Detective Peter Van Der Zander, the Ottawa Police's number one "rotten cop" with a history of fabricating evidence. These blatant offences were committed as revenge for statements perceived to be made against the Ottawa Police.
Ottawa Mens Centre
Am