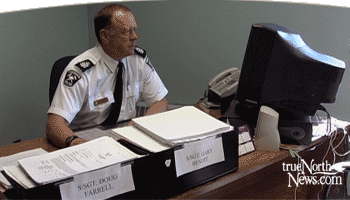 Staff Sergeant Doug Farrell looks forward to working with council and the Timmins Police Services Board to get the new building up.
Timmins Police Association Excited for New Building
trueNorthNews.com
by Lydia Chubak Kapel
6/21/2005 9:46:40 AM
Morale at the Timmins Police Station is on an upswing. Officers and Staff couldn't be happier with the recent developments regarding the new police building. They've been patiently waiting for the building issues to get resolved.

Staff Sgt. Doug Farrell, TPA Assoc. President: "It seems that this time council is far more committed then they have ever in the past. So we're looking forward to it and it certainly is a morale boost."

Farrell says a new police building will result in a more efficient police service. There'll be more office space and more privacy when conducting interviews. There's a dire need for more jail cells as well.


Staff Sgt. Doug Farrell: "We essentially have 4 categories of prisoners being adult male and female, and male and female young offender prisoners, but we only have 3 different areas that can house prisoners. When we have at least one prisoner from each category we're forced to deal with that issue by either taking the prisoners to the OPP in South Porcupine or using some other facility to detain people and that causes us a lot of work."

A new building's been promised three times in the past, but the plans were cancelled each time. With recent approval of the 10-year capital plan a site selection almost complete, doubt wanes.

Staff Sgt. Doug Farrell: "It's very fresh in our minds the money can be although granted, taken away quickly thereafter, but we are staying positive."
Source
613-797-3237
Note: Doug Farrell is a key player in the power and authority of Timmins. His wife Sue Farrell is the court clerk to Judge Richard Lajoie and has used her position personally to influence court cases with devastating irreparable injustice not to mention irreparable harm and damages. Together, they represent the potential for abuse of power and authority. Doug Farrell is an "old school" Timmins police officer who paid his dues with loyalty to well known corrupt Timmins Police Officers and in particular, Paul Bonhomme and the prime suspect in the murder of his wife, former Timmins Police Chief Joe Harwood.