Quebec mom charged with murdering her children dies from starvation
January 16, 2015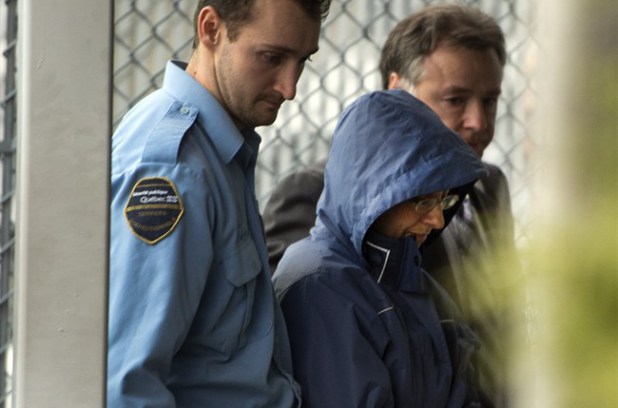 Sonia Blanchette arrives at the courthouse in Drummondville, Que., Wednesday, December 5, 2012. Police say charges could be laid Wednesday in the death of three young siblings in Quebec.
MONTREAL – A Quebec woman who was charged with murdering her three young children has died after starving herself.
Lawyer Jean-Pierre Menard, who was lending his support to Sonia Blanchette after she decided she no longer wanted to eat, said she fully understood the consequences.
Crown prosecutor Rene Verret had earlier confirmed the death without specifying the cause.
"At the opening of the next (judicial) session on March 30, we will table Madame Blanchette's death certificate and the file will end like that," Verret said in an interview.
Blanchette was to appear in court Friday to have a date set for her first-degree murder trial.
She was charged in the December 2012 deaths of Lorelie, 5, Loic, 4, and Anais, 2, after they were found dead in her apartment in Drummondville, midway between Montreal and Quebec City.
A coroner ruled the two youngest children drowned and that the oldest was killed by a combination of strangling and drowning.
Blanchette's death will result in the release of evidence presented at her preliminary hearing. It has been subject to a publication ban.
"As soon as the case is over, the publication ban falls," said Blanchette's lawyer, Marie-France Plante. "Its purpose was to prevent jury contamination."
Verret confirmed the evidence against Blanchette will become public.
"When the case is closed we will learn about the evidence presented during the preliminary hearing," he said.
Commentary by the Ottawa Mens Centre
Sonia Blanchette was very obviously suffering very serious mental health problem and yet, she was allowed unsupervised access to the children.

In Ontario, when women suffer very serious and obvious mental health problems, they are 99% of the time rewarded for extreme violence towards children and partners with custody of the Children.

In Ottawa its Judges like Jennifer Belishen, Timothy Minnema, and Robert Maranger who turn deliberate blind eyes to extreme violence by mothers towards children and Terminate the children's relationships with their father, generally a male victim of domestic violence because he, reported the mother's violence.

Ottawa is a cess pool of Child Abusing Judges who are guaranteed to cause the deaths not to mention endless abuse of children by mothers with extremely obvious mental health problems and incredible records for violence against children.

The Judges mentioned here, are what is called "Rubber Stamps" they make decisions for Ottawa's Criminal Organization called the Children's Aid Society of Ottawa that is hated and despised so much in Ottawa that
Ottawa Lawyers refer to as "The Gestapo".

The "Gestapo" employ professional child abusers like
Marguerite Lewis and Tracy Engelking as lawyers who engage in outright fabrications of evidence and Obstruction of Justice to
knowingly remove children from devoted full time fathers who happen
to be male victims of domestic violence.

These two lawyers are Ottawa's most dangerous criminals
who are nothing less than professional child abusers.

The Ottawa Police did investigate Fabrication of Evidence by
Marguerite Lewis and a Sgt. John Gibbons concluded after examining
Transcripts and Affidavits that "She lied to the judge, its perjury.

The cowardly and gutless Sgt. John Gibbons, terminated the investigation
after a phone call with CAS lawyer Tracy Engelking who used her influence
to have the investigation stopped and that's just one example of Obstruct Justice by Tracey Engelking.

On another occasion Tracey Engleking sought and obtained an illegal Order for Custody of children in the favour of one of Ottawa's most violent mothers, without notice to the father, "Ex Parte" from a Corrupt Judge, Monique Metivier who promptly
"Retired" to avoid a Judicial Complaint.


Note: The Children's Aid Societies effectively get to select judges and Ottawa Ontario Superior Court is riddled with
these rubber stamps who leave a trail of destruction. They wanted Marguerite Isobel Lewis to be a judge.
Her reputation for fabricating evidence, obstructing justice and child abuse prevented that from happening.
As an alternative they "anointed" Tracy Engelking as a judge where she now leaves a trail of destruction
together with the other extreme feminist judges in Ottawa.